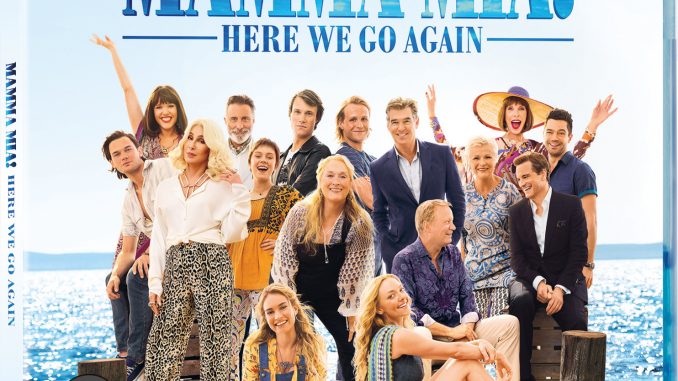 Klicka på bilden, för att se hela bilden
Get ready to sing and dance all over again with MAMMA MIA! HERE WE GO AGAIN
Universal City, California, September 4, 2018 – Bring family and friends together and have the time of your life with MAMMA MIA! HERE WE GO AGAIN Sing-Along Edition, the all-new smash-hit romantic comedy based on the songs of ABBA, for a one-of-a-kind at home experience. MAMMA MIA! HERE WE GO AGAIN arrives on 4K Ultra HD, Blu-ray & DVD in November, 2018 from Universal Pictures Home Entertainment.Ten years after MAMMA MIA! The Movie, MAMMA MIA! HERE WE GO AGAIN invites you to return to the magical Greek island of Kalokairi to continue the story's emotional journey of family and friendship whilst discovering just how those life-changing relationships were formed and includes hit songs such as When I Kissed The Teacher, Fernando and Dancing Queen.
MAMMA MIA! Here We Go Again, a Littlestar/Playtone production, is produced by Judy Craymer and Gary Goetzman, producers of the original film.Craymer is also the creator and producer of the worldwide smash hit stage musical.Ol Parker, writer of The Best Exotic Marigold Hotel, writes and directs the sequel from a story by Catherine Johnson, Richard Curtis and Ol Parker. Benny Andersson and Björn Ulvaeus return to provide music and lyrics and serve as executive producers. The original cast members multi-award winner Meryl Streep (Florence Foster Jenkins, Into The Woods), Pierce Brosnan (The World is Not Enough), Oscar® winner Colin Firth (The King's Speech), Stellan Skarsgård (Good Will Hunting), Julie Walters (Harry Potter and the Deathly Hallows), Dominic Cooper (Avengers: Infinity Wars), Amanda Seyfried (Les Miserables) and Christine Baranski (The Good Wife) return alongside new additions Lily James (Cinderella, Baby Driver), Oscar® winner Cher (Moonstruck, Burlesque) and Andy Garcia (Ocean's Eleven, The Godfather: Part III).
Both a prequel and a sequel, the film tells two stories: present day as Sophie Sheridan (Seyfried) prepares for the grand reopening of her mother Donna's (Streep) hotel and 1979 when young Donna (James) first arrives on the island. Sophie learns about her mother's exciting, fun-filled adventures with the young Dynamos, Tanya (Jessica Keenan-Wynn) and Rosie (Alexa Davies), and how young Donna first met her three possible dads Harry (Hugh Skinner), Bill (Josh Dylan) and Sam (Jeremy Irvine) all those years ago.Deemed as "a relentlessly sunny musical romp" by Leah Greenblatt, Entertainment Weekly, MAMMA MIA! HERE WE GO AGAIN is filled with summer fun, joy and romance that allows audiences to tap into their inner dancing queens in their own living rooms! Get ready to sing and dance all over again with the entire cast and go behind the scenes with MAMMA MIA! HERE WE GO AGAIN with over an hour of bonus features including one- of-a-kind lyric videos and a never-before-seen performance of "I Wonder."
BONUS FEATURES EXCLUSIVE TO 4K ULTRA HD, BLU-RAY & DIGITAL:
Deleted/Extended Songs and Scenes with Commentary by Director/Screenplay Writer Ol Parker
Extended Song Performance – The Name Of The Game
Extended Song Performance – Knowing Me, Knowing You
Enhanced Sing-Alongs
Cast Meets Cast
Tanya Meets Tanya – Jessica Keenan Wynn interviews Christine Baranski about playing the sassiest Dynamo – Tanya.
Rosie Meets Rosie – Alexa Davies interviews Julie Walters as the two actresses share their experiences playing Rosie.
Cast Chats
Dynamo Chit-Chat – A conversation between the three Young Dynamos reflecting on their favorite song, costumes, scenes to shoot, and funniest moments.
Dad Chat – The young dads come together to share some of their favorite memories from set.
High Jinks
Sophie's Story – Of all the characters, Amanda Seyfried's Sophie has developed the most since the first movie. Here we will chart how Sophie has gone from a vulnerable young girl to a confident young woman following life-changing events.
Choreographing MAMMA MIA! HERE WE GO AGAIN – Choreographer Anthony Van Laast and his team will reveal some of the secrets behind the highly original dance routines.
Dancing Queen: Anatomy of a Scene – The most famous piano roll in musical history opens one of ABBA'S biggest hits, "Dancing Queen." The number is the biggest and most complex sequence. Ol Parker will discuss where and how he wanted to use the song in the story.
Performing for Legends – Here the Young Dynamos will discuss the daunting prospect of stepping into the recording booth at Air Studios to sing ABBA to ABBA.
Class of '79 – The story of the Young Dads and Dynamos is told against the backdrop of Oxford, Paris and the Greek Islands of 1979, when hairstyles were wackier and the fashions were bolder. This featurette will focus on the Young Dads and Dynamos and their experience bringing these characters to life.
BONUS FEATURES ON 4K ULTRA HD, BLU-RAY, DVD & DIGITAL:
Deleted Songs and Scenes with Commentary by Director/Screenplay Writer Ol Parker
Deleted Song Performance – I Wonder
Deleted Scene – Tahini
Enhanced Sing-Alongs
The Story – Producer Judy Craymer reveals how the MAMMA MIA! legacy began, evolved into the first feature film and how she teamed with executive producer/co-story writer Richard Curtis and director/screenplay writer Ol Parker to develop the perfect sequel.
MAMMA MIA! Reunited – Focusing on the legacy performers and their excitement at reuniting a decade later, the filmmakers discuss the paths they've paved for the characters since we last saw them.
Playing Donna – This piece centers on Meryl Streep's cameo performance and Lily James' preparation for filling this iconic role.
Meeting Cher – The Queen of pop reveals her excitement at joining the MAMMA MIA! family as Ruby Sheridan – Sophie's glamorous grandmother. Fellow cast members will share their delight at meeting and watching a legend on set.
Costumes and The Dynamos – The Young Dynamos have some pretty cool costumes in MAMMA MIA! HERE WE GO AGAIN, and of course so does Cher. And who could forget those trademark dungarees? We will join costume designer Michelle Clapton as she highlights some of her favorite outfits from the movie.
Curtain Call – Who can forget the finale to MAMMA MIA! when the cast danced onto cinema screens in full spandex for one final number? Ol Parker has chosen "Super Trouper" to close his movie and it features all 16 key cast members.
NBC's TODAY Show Interview with Cher & Judy Craymer
Feature Commentary with Director/Screenplay Writer Ol Parker
Feature Commentary with Producer Judy Craymer
FILMMAKERS:
Cast: Christine Baranski, Pierce Brosnan, Dominic Cooper, Colin Firth, Andy Garcia, Lily James, Amanda Seyfried, Stellan Skarsgård, Julie Walters, with Cher and Meryl Streep
Written and Directed By: Ol Parker
Story By: Richard Curtis and Ol Parker and Catherine Johnson
Produced By: Judy Craymer p.g.a., Gary Goetzman p.g.a.
Music and Lyrics By: Benny Andersson and Björn Ulvaeus
Based on the Original Musical 'MAMMA MIA!' By: Catherine Johnson
Originally Conceived By: Judy Craymer
Based on the Songs Of: ABBA
Executive Producers: Björn Ulvaeus, Benny Andersson, Rita Wilson, Tom Hanks, Richard Curtis, Phyllida Lloyd, Nicky Kentish Barnes
Director of Photography: Robert Yeoman ASC
Production Designers: Alan MacDonald, John Frankish
Editor: Peter Lambert
Costume Designer: Michele Clapton
Choreographer: Anthony Van Laast
Musical Director: Martin Koch
Score by: Anne Dudley
Music Supervisor: Becky Bentham
© Universal Sony Pictures Home Entertainment Nordic