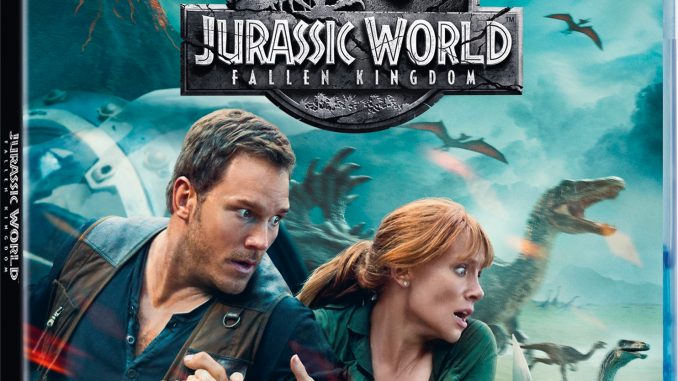 Klicka på bilden, för att se hela bilden
Universal City, California, July 24th, 2018 – Celebrate the newest installment of the action-packed Jurassic franchise when Jurassic World: Fallen Kingdom arrives on 4K Ultra HD, 3D Blu-rayTM, Blu-rayTM, DVD, featuring more than an hour of bonus content – including Chris Pratt's behind-the-scenes "Jurassic Journals" captured on-set. The global blockbuster from Amblin Entertainment and Universal Pictures held the No. 1 spot for four straight weeks at the international box office, and topped the North American box office for two weeks is a worldwide hit, earning over $1 billion in global ticket sales. With the release of Jurassic World: Fallen Kingdom, the Jurassic franchise is now one of the top grossing franchises of all-time grossing over $4.7 billion at the box office. Jurassic World: Fallen Kingdom continues to deliver adventure and thrills with the homecoming of beloved characters along with the introduction of new creatures that are more awe-inspiring and terrifying than ever before.
Building on the wonder and adventure that has mesmerized audiences worldwide, Jurassic World: Fallen Kingdom continues one of the most thrilling series in movie history with an adventure 65 million years in the making, captivating audiences of all ages with a stunning new chapter filled and more dinosaurs than any other Jurassic film. Stars Chris Pratt (Jurassic World, Guardians of the Galaxy franchise) and Bryce Dallas Howard (Jurassic World, Pete's Dragon) return as Owen Grady and Claire Dearing with original cast members Jeff Goldblum (Jurassic Park, Thor: Ragnarok) and BD Wong (Jurassic World, "Law and Order: SVU") reprising their iconic roles. Bring home the non-stop adventure, learn the incredible twist, and find out what happens when the park is gone.
In Jurassic World: Fallen Kingdom directed by J.A. Bayona (The Impossible, The Orphanage) and executive-produced by Jurassic titans Steven Spielberg and Colin Trevorrow, Owen (Pratt) and Claire (Howard) return to Isla Nublar three years after the destruction of the Jurassic World theme park to rescue any remaining dinosaurs on the island from a catastrophic volcano that threatens to leave dinosaurs extinct once again. Owen is driven to save his lead raptor, Blue, while Claire makes it her mission to preserve the creatures that she has grown to deeply respect. When the lava begins to rain down, they soon discover terrifying new breeds of ferocious dinosaurs along with a conspiracy that could threaten the entire world. Joined by co-stars James Cromwell (Babe, The Green Mile) as wealthy entrepreneur Benjamin Lockwood, Dr. John Hammond's partner in creating Jurassic Park, as well as Justice Smith (The Get Down) and Daniella Pineda (The Detour) as Franklin Webb and Zia Rodriguez, members of Claire's Dinosaur Protection Group; this brilliant cast brings an extraordinary story to life as chaos erupts when Owen, Claire, and their team discover a most deadly endgame that could bring the planet back to prehistoric times.
BONUS FEATURES EXCLUSIVE TO 4K ULTRA HD, BLU-RAYTM & DIGITAL:
The KINGDOM Evolves – Filmmakers discuss how the second chapter in the Jurassic World trilogy pushes the franchise in a new direction.
Return to Hawaii – Cast and crew discuss shooting the film in Hawaii.
Island Action – A behind-the-scenes look at the bunker scene and runaway gyrosphere sequence.
Aboard the Arcadia – Cast and crew discuss working with the animatronic dinosaurs.
Start the Bidding! – A behind-the-scenes look at the auction scene.
BONUS FEATURES ON DVD, 4K ULTRA HD, BLU-RAYTM & DIGITAL:
On Set with Chris & Bryce – Go behind the scenes with Chris Pratt and Bryce Dallas Howard.
Birth of the Indoraptor – An inside look at the genetically designed monstrosity known as the Indoraptor.
Death by Dino – Go behind the scenes as the Indoraptor faces off with a key character.
Monster in a Mansion – Director J.A. Bayona discusses how Jurassic Park and Dracula (1979) influenced his approach to directing the monster in a mansion scene.
Rooftop Showdown – A look at the terrifying showdown on the rooftop of the Lockwood Mansion.
Malcolm's Return – Behind the scenes with the one & only Jeff Goldblum.
VFX Evolved – The team at ILM discuss their cutting-edge approach to creating dinosaurs.
FALLEN KINGDOM: The Conversation – Filmmakers and cast sit down for a candid and casual conversation about Jurassic World: Fallen Kingdom.
A Song for the KINGDOM – Justice Smith sings for the cast and crew of Jurassic World: Fallen Kingdom.
Chris Pratt's Jurassic Journals
Vivian Baker, Makeup Artist
Mary Mastro, Hair Stylist
Chris Murphy, 1st Assistant Sound
Dean Bailey, Stunt Edge Car Driver
Peter Harcourt, Diver
Daniella Pineda and Justice Smith, Actors
Jody Wiltshire, Set PA
Kelly Krieg, Assistant Script Supervisor
J.A. Bayona, Director
James Cox, Stunt Performer
Rachelle Beinart, Stunt Double
Bryce Dallas Howard interviews Chris Pratt, Actor
JURASSIC Then and Now – Presented by Barbasol® – Key moments from the Jurassic saga that tie into Jurassic World: Fallen Kingdom.
FILMMAKERS:
Cast: Chris Pratt, Bryce Dallas Howard, Rafe Spall, Toby Jones, Ted Levine, BD Wong and Jeff Goldblum
Directed By: J.A. Bayona
Written By: Derek Connolly & Colin Trevorrow
Based on Characters Created By: Michael Crichton
Produced By: Frank Marshall p.g.a.
Executive Producers: Steven Spielberg, Colin Trevorrow
Director of Photography: Oscar Faura
Production Designer: Andy Nicholson
Editor: Bernat Vilaplana
Costume Designer: Sammy Sheldon Differ
Jurassic Park Theme By: John Williams
Music By: Michael Giacchino
© Universal Sony Pictures Home Entertainment Nordic