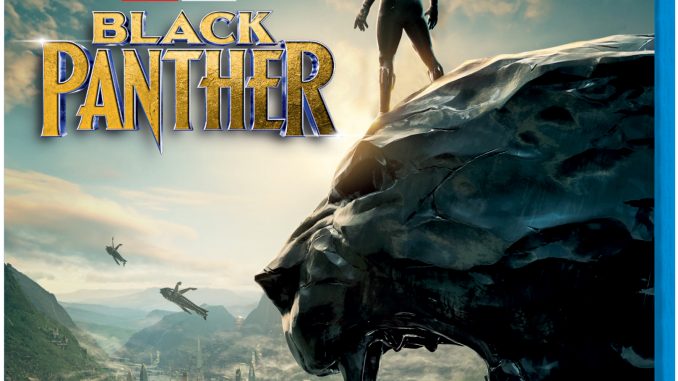 Marvel Universe 18. USA, 2017
Regi: Ryan Coogler
I rollerna: Chadwick Boseman, Michael B. Jordan, Lupita Nyong'o, Danai Gurira, Martin Freeman
3D Blu-ray, Blu-ray, DVD
(Disney)
BETYG: FYRA
1966 bröt Marvel en stor barriär i serievärlden – de introducerade en färgad superhjälte som dessutom var kung, smart och väldigt rik. Debuten skedde i serietidningen Fantastic Four (#52) och nåt år senare dök Black Panther upp i Captain America (#97) innan han blev en del av The Avengers (#52) och fick sitt första egna äventyr i Jungle Action (#5). I seriernas värld är Black Panther för övrigt gift med X-Mens virvelvind Storm. På bio såg vi ju Black Panther för första gången i Captain America: Civil War. När nu Black Panther får sin egen film dras i stort sett hela persongalleriet från serietidningen med.
Filmen börjar med en återblick över hur fadern Chanda tvingades ta ett ödesdigert beslut i unga år. Detta beslut ligger delvis till grund för filmens alla stickspår. När vi ser Black Panther alias T'Chaka är det dags att begrava Chanda som blev mördad i Captain America: Civil War. När det är dags att välja en ny kung i Wakanda får alla Wakandas stammar skicka en utmanare och segraren i tvekampen blir ny kung. På detta vis lyckas så filmmakarna introducera samtliga rollfigurer. Och självklart dyker Stan Lee upp i en cameo.
Filmen är underhållande men kanske lite för allvarlig. Den innehåller definitivt inte lika mycket humor som förra Marvelfilmen Thor: Ragnarok. Liksom alla andra Marvel Universe-filmer är den väldigt snyggt gjord.
Extramaterialet är helt ok där paneldebatten From Page To Screen sticker ut. Den är väldigt intressant speciellt för serienördarna.
Skriven 2018-07-21