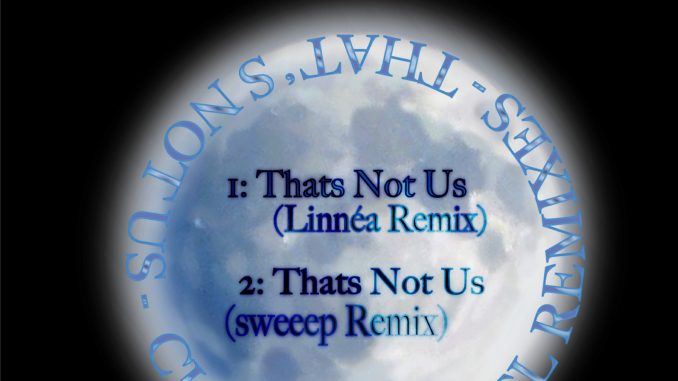 Klicka på bilden, för att se hela bilden
Beatrice Eli releases "That's Not Us Cherish Label Remixes" with sweeep and Linnéa today.
Beatrice Eli's 2017 The Careful EP was a truly emotionally open record, and the single "That's Not Us" was its beating heart, a song poised somewhere between ballad and dark electronica.
Just under a year on from That's Not Us' release, the track is getting some fresh attention from two of Stockholm label Cherish's (a label that aims to boost the music of female and non-binary identifying artists and producers) rising stars. As part of a collaboration between Cherish and Stockholm creative agency Trans94, it's now been remixed by sweeep (whose debut EP Dissapear Here came out last week) and Linnéa (who released a single, So Real, in February).
On the two remixes, the duo take the track to opposite ends of the stylistic spectrum. Linnéa pulls it deep into her world, ramping up the syrupy sweetness of the production, upping the tempo and hopping in on the vocals to turn the song into smooth, dreamy pop. Sweeep, on the other hand, brings it somewhere else entirely, pulling the basics of the song apart and transforming them.
I admire both Dream Linnéa and sweeep's production styles, they are two unique producers with strong sounds and I love what they did with That's Not Us. I'm also very inspired by Cherish Label. Evelina [Åslin, label manager] is a force, I feel she's changing the scene here in Stockholm by providing a platform with soft values in an industry that can be very hard and macho.
– Beatrice Eli
It was fun remixing her song, since I don't produce pop I could flip it to how it would sound if it was a sweeep-song. I pitched and chopped the a capella, and created a dark atmosphere around a melody I liked in Beatrice's song.
– sweeep
Obviously I had to take the opportunity to do a duet with Swedish Queen B, otherwise I would have to demand my own resignation. I guess my version is the same 808 vs mallet syncopation shit I always do, except I added some cute tablas and a berimbau. It turned out pretty neat.
– Linnéa
Both remixes is out today April 18, released on Cherish Label and Trans94.
Read
Text by: Austin Maloney
© Trans94