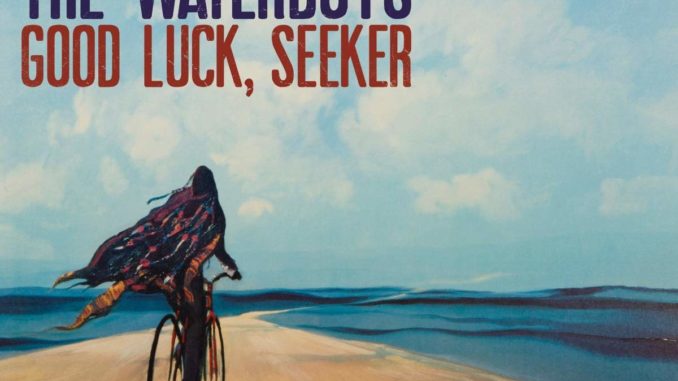 Klicka på bilden, för att se hela bilden
The Waterboys – Postcard From The Celtic Dreamtime
The Waterboys have revealed another brand new track, the hauntingly atmospheric 'Postcard From The Celtic Dreamtime'. Showcasing the spoken word nature of the second half of new album Good Luck, Seeker, the lyrics describe an elemental land and seascape.
"It's a poem I discovered in a box of old writings," explains Scott. "The first line is "The storm that has howled for four days has blown itself out." It describes the world I found at the end of Ireland, where I went to escape the pressures of the modern world and finish 'Fisherman's Blues' thirty years ago."
The track, underpinned by a shimmering beat and shapeshifting musical soundtrack, unites The Waterboys' past and present and is accompanied by a beautiful aerial video tracing the spectacular coastline of the Aran Islands with are mentioned in the lyric. The aerial footage was shot by band member Steve Wickham and edited with his son Tom Wickham.
'Postcard From The Celtic Dreamtime' follows the recent release of the band's current upbeat pop single 'The Soul Singer', the mysterious 'Low Down In The Broom' and the epic 'My Wanderings In The Weary Land', all of which preview one of the most remarkable albums in The Waterboys' career.
"Gathering together the strands that have occupied him throughout his career, [Scott's] forged an album of passion, wit and spirituality that, like its title, invites us not only to evolve but to revel in our evolution". Uncut – 8/10
"[It] leaps across stylistic chasms with complete abandon. Celtic soul tunes bounce into indie dance… drum machines and electronic bass groove behind spoken word passages… while 'The Big Music' could well have reached its zenith: expansive, driven rock that's also mystical and prosaic.." Mojo – 4/5
'GOOD LUCK, SEEKER' is released on August 21st via Cooking Vinyl & on CD, Deluxe CD, Standard Vinyl, Deluxe Vinyl and digital formats
Jamila Woods – SULA (Paperback)
Listen to the new Jamila Woods track "SULA (Paperback)" the first music since her landmark 2019 album LEGACY! LEGACY!, on which every track relates to an iconic artist of color. Inspired by Toni Morrison and her 1973 novel Sula, this time Woods subverts the prompt of her last album by not only honoring the artist but honing in on the characters created by the artist.
Focusing on Morrison's depiction of the relationship between Sula Peace and Nel Wright, Woods finds freedom of spirit in its text. "It's the first Toni Morisson novel I ever read and it inspired the first chapbook of poems I ever wrote," says Woods. "The novel shows the evolution of a friendship between two Black women and how they choose to navigate society's strict gender roles and rules of respectability. On Sula, Toni Morrison wrote, 'living totally by the law and surrendering totally to it without questioning anything sometimes makes it impossible to know anything about yourself.' Returning to the story several years later, it gave me permission to reject confining ideas about my identity designed to shrink my spirit. It reminded me to embrace my tenderness, my sensitivities, my ways of being in my body. This song is a mantra to allow myself space to experience my gender, love, intimacy, and sexuality on my own terms."
Buscabulla – Vámono (Ela Minus Remix)
Remix of recent single by Domino's priority breaking artist for 2020/21 – Ela Minus. Taken from the album 'Regresa' which was released on 8th May. The band are featured as one of NPR's Best New Artists of 2020 So Far and picked for their top Albums and Songs of May. The band recently performed a livestream for Pitchfork's Instagram. In the UK, the album was reviews 4* in both NME and Q and the singles have picked up spot plays across 6 Music. The band have been streamed 6m times globally and grown their followers by 70% over the past 12 months.
Austra – I Am Not Waiting (Claptone Remix)
Claptone remixes Austra's current single I Am Not Waiting, taken from new album HiRUDiN which was released on May 1st. Official video for I Am Not Waiting launching on 27th July alongside new artwork assets by Peter Burr.
Hello Forever – Everything Is So Hard
Rough Trade Records are excited to announce we will be releasing the debut album by Californian group Hello Forever, with two new tracks, on CD / Vinyl formats on October 2nd, 2020. Check out the video for new track 'Everything Is So Hard' here now.
Based in Topanga, California, on a piece of land once used by the infamous Sandstone Retreat and free-love nudist commune, the art-pop collective 'Hello Forever' are led by the eccentric, magnetic figure of Samuel Joseph. They live together, in this pastoral setting high above the Pacific Ocean – not far from where Neil Young recorded After the Gold Rush or Captain Beefheart laid down the tracks for Trout Mask Replica, the group forever expanding and contracting, with members coming and going as they please. However, the group adheres to a stringent five day a week rehearsal schedule, they fuse elements of the 60s West Coast sound with a DIY approach to music and creativity which has spawned their remarkable debut album, the aptly titled Whatever It Is. Joseph and company have created a contemporary throwback to a vibrant era with a set of songs that establish the collective's exquisite harmonies and colourful instrumentation.
Hello Forever's music is inextricable with the lifestyle and spiritual goals of its participants, a revolving membership that also includes, at various times, collaborators drummer/co-founder Andy Jimenez, Molly Pease, Jaron Crespi, Joey Briggs, Anand Darsie and Lina Kay. Walk into their communal compound and one of the first things one sees is a copy of the late Baba Ram Dass' counter-culture classic, Be Here Now, perhaps the best description of the collective's philosophy of life, creativity, art and music.
Sam explains a little about new single 'Everything Is So Hard', "It's difficult to know what to say about this song. It changed how we think about what we can play, and it brought us closer together — because it came from a very raw place and deep suffering. A lot of our songs emerge through a narrow aperture of a very specific experience that drags up a feeling with broad roots — so everything is so hard kinda revealed itself in a moment when I was in a relationship that wasn't working, but It hurt too much to leave. You know when you want to stay, even though the sadness you feel starts to taint even the good moments? Getting to the end of it feels like a death. I fear death. It kills me sometimes — the dread of the unknown can suck the life out of the beautiful moments that I love so much as to cause me to fear their ending in the first place. It's a paradox, loving life, fearing death — my life can sometimes be framed by that suffering despite my best intentions. But still I worship it. I cling to it. Somewhere deep in me loves it all through the fog of fear and pain and grief and cruelty and desperation. In the rare spectacular moments, I get caught up, and I go through the fog and get to really get a glimpse of life, and it's a blessing. It brings me home and sets me off. But it can't erase the suffering."
© Playground Music