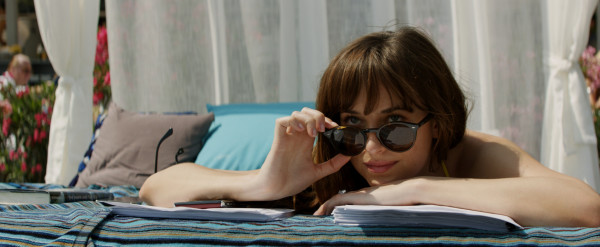 Klicka på bilden, för att se hela bilden
The global film sensation sparked by EL James' best-selling book trilogy returns with the seminal final chapter of the darkly alluring tale that captivated the world. Stay in, complete your collection and experience the climax of this worldwide phenomenon with the ultimate at-home movie night when Fifty Shades Freed arrives on 4K Ultra HD, Blu-rayTM & DVD in June 2018, from Universal Pictures Home Entertainment.
Believing they have left behind shadowy figures from their past, newlyweds Christian (Jamie Dornan, "The Fall," Anthropoid) and Ana (Dakota Johnson, How to Be Single, Black Mass) fully embrace an inextricable connection and shared life of luxury. But just as she steps into her role as Mrs. Grey and he relaxes into an unfamiliar stability, new threats could jeopardize their happy ending before it even begins. Directed by James Foley ("House of Cards," At Close Range), Fifty Shades Freed also features returning cast members Eric Johnson ("The Knick," "Smallville"), Rita Ora (Fifty Shades Franchise) as well as Oscar® winner Marcia Gay Harden (Fifty Shades of Grey, Miller's Crossing).
In addition to both the original theatrical version and a steamy new unrated version, Fifty Shades Freed comes with more than 30 minutes of never-before-seen bonus content, including a deleted scene, cast interviews and behind-the-scenes features. You get more passion, more drama and more suspense when you own the final chapter on 4K Ultra HD, Blu-rayTM & DVD.
BONUS FEATURES EXCLUSIVE TO 4K ULTRA HD & BLU-RAYTM
An Intimate Conversation with EL James and Eric Johnson – A casual conversation between EL and Eric discussing the film, favorite moments, themes, etc.
Music Videos
"For You (Fifty Shades Freed)" – Liam Payne & Rita Ora
"Capital Letters" – Hailee Steinfeld & BloodPop®
"Heaven" – Julia Michaels
BONUS FEATURES ON 4K ULTRA HD, BLU-RAYTM & DVD
Deleted Scene
The Final Climax – Fans can follow not only Ana and Christian, but also both new and familiar characters behind-the-scenes throughout their journey of Fifty Shades Freed
The Wedding: Take a closer look at the beautiful wedding scene with the production and costume designers – from the breathtaking venue, gorgeous gown and the custom-designed floral arrangements
Honeymoon: Travel along with the newlyweds and soak up the sun in the gorgeous French Riviera. Discover the challenge production faced with accessing locations, and the search for the perfect honeymoon yacht
Mr. & Mrs. Grey: After the wedding and the honeymoon, what is it really like to be married? Find out how life in the penthouse changes once Ana moves in
Ana Takes Charge: Director James Foley and Costume Designer Shay Cunliffe explore Ana's transformation and growth into a powerful businesswoman
Ana & Mr. Hyde: Go behind the scenes and find out the secrets about what makes Jake Hyde tick
Aspen in Whistler: Take a look at how the filmmakers and set decorator used Whistler, Vancouver as a stand-in for snowy Aspen, and discover the famous musician whose home was transformed into Christian's mansion
Ana's Revelation: Ana and Christian face their biggest challenge yet. Author EL James takes us through the choice that Ana must make and how the couple's power dynamic shifts
Resolution: The final showdown between Ana and Jack brings the two face-to-face and Ana will do whatever it takes to protect Christian, his family, and her future
The Meaning of Freed: The cast and filmmakers share what being FREED really means for both Ana and Christian
Christian & Ana By Jamie & Dakota – Revisit the previous films and learn how both Ana and Christian have changed…and how both actors have lived through the experience
© Universal Pictures Home Entertainment