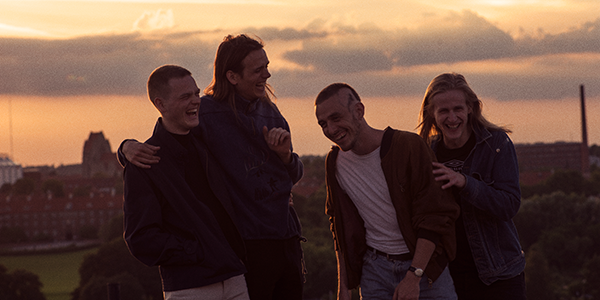 Klicka på bilden, för att se hela bilden
Blaue Blume's music is soaked with longing and love and they are one of the most elaborate and devoted bands on the circuit. Their new EP Sobs, which is also available on beautiful blue 10 inch vinyl features four sublime tracks of mature indie music, undoubtedly referring sound-wise to their idols The Smiths, Cocteau Twins or Roxy Music, to name a few.
Ebony, one of the songs from the EP, presents an epic gentleness – beautifully crafted with a nod to 80s power ballads, yet perfectly contemporary. This vibe has been captured in the video by Daniel Charluck Garrelts.
"Already from the first times I listened to Ebony and the EP Sobs, the feelings of deep loneliness and longing rushed through me as clear and powerful. This emotional landscape coloured with inconsolable solitude became the core driver for me and served as the main source of inspiration for this video", says Garrelts. " I felt as if the love and companion that were missing were still present and desperately kept alive even if only in one's mind. The unwanted and prolonged solitude experienced would inevitably make a way for a manifestation – a manifestation that is a product of one's deepest desires and distant dreams. This manifestation may at first glance seem unattainable – too beautiful and precious to ever truly exist and come to life. Yet gradually, as the story unfolds it allows us to plummet deeper into the sea of solitude and witness the manifestation of it becoming ever more real and ever more alive."
"Like a stroboscope in slow motion: This quartet from Scandinavia beats soft tones and puts the listener in an enraptured trance." (Ask Helmut)
"The sound of this band in legendary and terrific!" (Soundkartell)
"If you like to sing in a trance without losing your dancing spirit, Blaue Blume is just right for you" (Pretty In Noise)
© hfn music