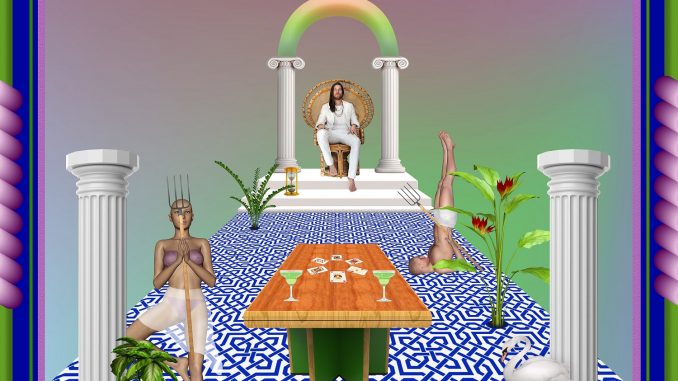 Klicka på bilden, för att se hela bilden
Los Angeles-based singer-songwriter/multi-instrumentalist/producer Jonathan Wilson (Father John Misty, Karen Elson, Conor Oberst), returns with his third solo release. The ambitious "maximalist" album, titled Rare Birds, is released 2nd March on Bella Union and features contributions from Father John Misty, Lucius, Lana Del Rey, and New Age music legend Laraaji.
The first track from the album, the epic and romantic "Over The Midnight", is streaming NOW
Of "Over The Midnight", Wilson says, "I wanted to write a song about a sacred place for lovers to exist and I named that destination, process, mood or feeling 'Over the Midnight'. It's a place where nothing is savage." In one of Wilson's favourite lines on the album he sings, "This world it is burning, but don't it feel incredible?/ Whisper in my ear and tell me what you see in the flames."
A highly sought after record producer, North Carolina native Wilson had a busy 2017 producing Father John Misty's Grammy nominated Pure Comedy and touring arenas around the globe as a guitarist and vocalist for Pink Floyd legend Roger Waters (for whom he also contributed to the also Grammy nominated Is This The Life We Really Want? album). Wilson also saw widespread acclaim heaped on Karen Elson's sophomore LP Double Roses, which he recorded with her in Los Angeles in 2016. But 2018 looks to be even more active as he'll be continuing on with the worldwide Waters tour, releasing Rare Birds and completing a headline tour of US and Europe in the spring. Nordic dates;
Saturday 31st March – COPENHAGEN – Vega Small
Sunday 1st April – STOCKHOLM – Bryggarsalen
Tuesday 3rd April – OSLO – Parkteatret Scene
Although much of the album is comprised lyrically of meditations on a failed relationship and its aftermath, Wilson insists that Rare Birds is not really a concept album. "It's meant more as a healing affair, a rejuvenation, a reconciliation, for others, and for me. I wanted to balance personal narrative with the need I feel for calming, healing music. I think we need journeys in sound, psychedelic gossamer-winged music, to incite hope, positivity, longing, reckless abandon and regret. It's all in there."
And, for this one, music critics will need to retire the comparisons to heritage rockers and Laurel Canyon troubadours as they're hardly useful anymore. Wilson's new sound takes a synthetic/acoustic, best-of-both-worlds analog/digital hybrid approach to achieve the complexity, sonic density and glossy hi-fi coating of Rare Birds. Heard for the first time on a Jonathan Wilson album are the sounds of synthesizers and drum machines.
"The Neil Young, CSN, Dennis Wilson and Tom Petty comparisons for the first two records were flattering, but I didn't ever really see it that way myself", he explains. More genuinely influenced by such disparate artists as Talk Talk, Arthur Russell and a 'Sleigh Bells-meet-George Harrison kinda thing', Wilson has made a "maximalist", high density album more influenced by 80s British production more than anything to do with Southern California in 1970s. It's a dynamic new approach for Wilson that calls to mind one of Peter Gabriel's early solo albums or even mid-period Kate Bush. "This album is a hell of a lot more Trevor Horn than anything, you know, Laurel Canyon-related," he muses. Recorded during the same timeframe he was in the studio with Roger Waters, working on Is This The Life We Really Want?, Wilson felt inclined to expand into certain psychedelic and sound labyrinths. There are voices, sirens, children playing, and more enhancing spatial sounds, while musical compadres Lana Del Rey and Josh Tillman (Father John Misty) appear as backing vocalists on "Living With Myself" and "49 Hairflips", respectively.
Says Tillman, "Jonathan's talent – "mastery" may be more apt – places him among a rarefied class of musical auteur. You'd be hard pressed to find a comparison, or contemporary for that matter, that would do his recent work justice."
Rare Birds was produced by Jonathan Wilson and engineered by Dave Cerminara at Wilson's own Fivestarstudios in Echo Park, Los Angeles. 2018 will see Wilson playing nearly 100 shows all over the world with Roger Waters and performing his own headline and festival appearances wherever, and whenever he can fit them in.
Rare Birds will be released 2nd March via Bella Union. Album artwork and tracklisting below:
Tracklist for Rare Birds:
Trafalgar Square ^
Me
Over The Midnight
There's a Light ^
Sunset Boulevard
Rare Birds ^
49 Hairflips *
Miriam Montague
Loving You +
Living With Myself #
Hard To Get Over
Hi Ho The Righteous
Mulholland Queen
^ backing vocals by Lucius
* backing vocals by Josh Tillman/Father John Misty
+backing vocals by Laraaji
# backing vocals by Lana Del Rey
© PIAS Nordic