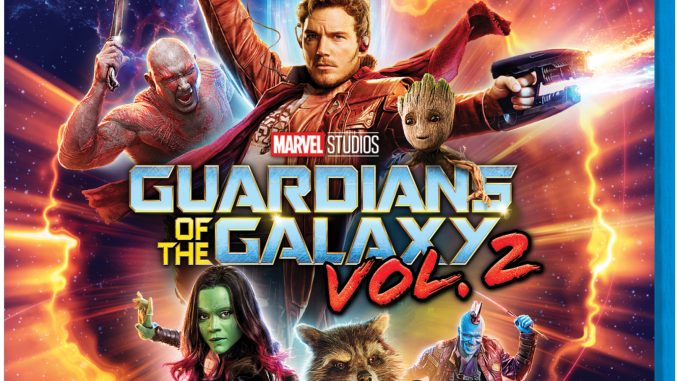 Marvel Universe 15. USA, 2017
Regi: James Gunn
I rollerna: Chris Pratt, Zoe Saldana, Dave Bautista, Michael Rooker, Karen Gillan
3D Blu-ray, Blu-ray, DVD
(Disney)
BETYG: TRE
Guardians Of The Galaxy är lite udda i Marvel Universe då serien är relativt okänd för de flesta. Det började redan 1969 i serietidningen Marvel Super-Heroes (#18) och sen lite sporadiska inhopp under 70-talet för att sen försvinna helt tills rebooten kom med ett eget album 1990 sedan blev det tyst fram till 2008 då en ny reboot kom. Fast persongalleriet förändrats genom åren så är det 2008-års uppsättning med Star-Lord i huvudrollen som är med i filmerna (fast vissa tidigare figurer from 1969-teamet dyker upp ex Yondu Udonta).
Efter Guardians Of The Galaxy har besegrat Ronan the Accuser accepterar de ett nytt jobb från High Priestess Ayesha. De ska bevaka ett antal värdefulla batterier från ett inter-dimensionellt monster, The Abilisk. Efter att ha besegrat The Abilisk snor Rocket åt sig ett antal av batterierna och Ayesha beslutar sig för att utplåna Guardians Of The Galaxy. Mitt under striden utplånas i stället Ayshas stridsflotta. Det visar sig att en mystisk figur vid namn Ego hjälpt dem. Ego visar sig var Star-Lords pappa men de vet inte riktigt vad det hela ska gå ut på.
Filmen saknar tyvärr en del av charmen som gjorde 1:an till den stora succén filmen blev. Men den är ändå underhållande och Awesome Mix Vol. 2 innehåller godbitar som ELOs Mr Blue Sky och Sweets Fox On The Run.
Bland extra materialet är musikvideon till Guardians Inferno obetalbar. Resten är ok.
Skriven 2017-09-24