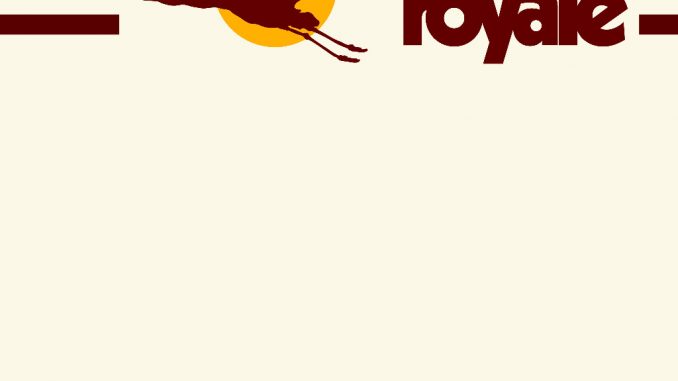 Klicka på bilden, för att se hela bilden
"If you have any love lost for The Hellacopters this might very well be your next fix."
Rock N Load Magazine

Grande Royale releases their third album "Breaking News" on The Sign Records. Ten track of High Energy rock that have been recorded and produced by Nicke Andersson (The Hellacopters, Imperial State Electric) at his studio the Honk Palace. Packed with powerful riffs that works as gasoline for the songs, the album ignites as screaming guitar solos takes it all the way to eleven. Each song is hold together by a sing a long friendly pop hooks and an overload of melodies. The album is released today, the 25th of August.
"During our time with Nicke he always told us that every song needs a 'hook'. Something that you will remember after hearing the song just once, and I really think we managed to find that hook while writing this songs. It stick, even if you like 'em or not"
– Hampus Steenberg, Grande Royale
Grande Royale have after two self released albums signed a deal with The Sign Records. With a label and producer Nicke Andersson by their side the band have taken several steps, both as songwriters and by creating a new sound. Arriving in the studio Grande Royale noticed that Nicke Andersson was going through an Lynyrd Skynyrd obsessive period, an interest and obsession that the band shared. The entire recording period was heavily influenced by Lynyrd Skynyrd and updated the bands sound to lean more towards a timeless southern rock sound. The Swedish bands heritage shines though as the band picks up most of the ingrediences that we love with Swedish music as well of the classic rock acts. Grande Royales new album "Breaking News" is all about radio friendly feelgood rock n roll anthems. If you have any love lost for The Hellacopters this might very well be your next fix.
"recorded by Nicke [Entombed/Hellacopters] Andersson at his Honk Palace studio and, by all accounts, was created in a haze created by the things that usually create haze alongside healthy helpings of rock 'n' roll that fall somewhere between classic Motor City madness and chaw spittin' southern rock"
Decibel Magazine
"the band basks in a classic heavy rock sunshine and analog depth, leaving no room for pretense when it comes to bringing forth '70s influences as filtered through more modern garage push."
The Obelisk
"This album is a very fun, concise example of what rock should sound like"
Moshpit Nation
"Seriously, it cannot be overstated how great this record sounds. The production is top notch even on a digital copy through tiny speakers."
Glacially Musical
Grande Royale on Tour Autumn 2017
24.8.2017 – SWE – Stockholm, Pub Anchor
25.8.2017 – ALA – Mariehamn, Dino's Bar & Grill
26.8.2017 – SWE – Linköping, Palatset
2.9.2017 – DNK – Roskilde, Gutter City Festival
15.9.2017 – SWE – Jönköping, Sofiehof Underjord
22.9.2017 – SWE – Nässjö, Allmenäs Källare
23.9.2017 – SWE – Göteborg, Sticky Fingers
18.10.2017 – ESP – Orihuela-Alicante, La Gramola
19.10.2017 – ESP – Valencia, Loco Club
20.10.2017 – ESP – Vitoria, Hell Dorado
21.10.2017 – ESP – Bilbao, Satelite T
22.10.2017 – ESP – Donostia, La Cripta
23.10.2017 – ESP – TBA
24.10.2017 – FR – Toulouse, Connexion Club
25.10.2017 – FR – Besançon, Les Passagers du Zinc
26.10.2017 – FR – Clermont-Ferrand, Bombshell
27.10.2017 – FR – Paris, TBA
28.10.2017 – FR – Brittany, TBA
01.11.2017 – DE – Kiel, Schaubude
02.11.2017 – DE – Hamburg, Astra Stube w/ Nap
03.11.2017 – DE – Münster, Rare Guitars
04.11.2017 – DE – Dortmund, Subrosa
05.11.2017 – DE – Magdeburg, Flower Power
06.11.2017 – DE – Tübingen, Münzgasse / Blauer Salon
07.11.2017 – DE – Niederweyer, Proberaum / Scheune
08.11.2017 – DE – Chemnitz, Aaltra
09.11.2017 – DE – Berlin, Jägerklause w/ Donkey Pilots
10.11.2017 – DE – Flensburg, Volksbad
© The Sign Records