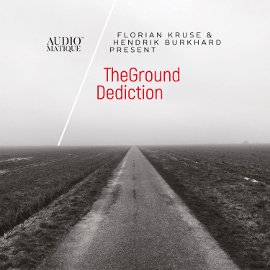 Those with a keen ear for the ebbs and flows of the underground scene will be well aware of the emergence of Florian Kruse's and Hendrik Burkhard's TheGround project. Kruse is of course well known for his extensive career in underground house music in the German capital, but connecting with Burkhard in 2015 took him to a different level. The guys got together in 2016 to create this body of work, building on their shared chemistry and artistic compatibility. The result is 'Dediction' – an album that showcases exactly what is getting people so excited about this project.
The debut longplayer finds a balance between the pure release of the dance floor and the dreamy, woozy feel Kruse and Burkhard seem to tap into with every release.
The lead single 'Homeless Hearts' is a slick, nuanced and spacy production and gives way to a powerful groove, providing the perfect backing for Burkhard's dreamy vocal. The track will be released on the 1st of September, together with a bomb-grade remix from Ruede Hagelstein.
Dediction – Tracklist:
01. Sirens Call (Intro)
02. Homeless Hearts
03. Undercover
04. Crack In The Wall feat. Mi.li.an
05. Silence feat. Raphael Hofman
06. Through The Darkness feat. Saccao
07. Going Against The Grain
08. Creature
09. Falling feat. Mi.li.an
10. Kingdom Of Crumbling Walls
feat. Vincenzo & Mi.li.an
Dediction EP (vinyl) – Tracklist:
A1. Homeless Hearts
A2. Undercover
B1. Silence feat. Raphael Hofman
B2. Creature
© Audiomatique