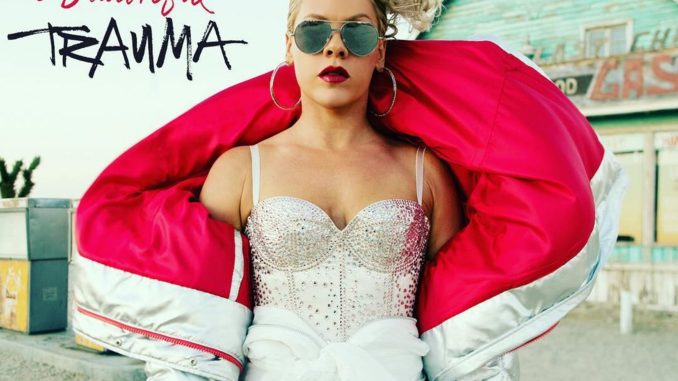 En av popvärldens stora ikoner, P!NK är äntligen tillbaka med ny musik och starka budskap. Idag släpps singeln "What About Us" och fredagen den 13 oktober är det dags för P!NKS sjunde studioalbum "Beautiful Trauma" att se dagens ljus.
Nya singeln "What About Us" är skriven av P!NK, Johnny McDaid från Snow Patrol och Steve Mac som även står för produktionen. På albumet "Beautiful Trauma" har P!NK arbetat med svenska storheter som Max Martin & Shellback samt Jack Antonoff, Julia Michaels, Greg Kurstin och busbee med flera.
Under sommaren har P!NK laddat upp inför nya musiksläppet med ett antal härliga festivalspelningar runt om i världen. I helgen väntar två spelningar i Berlin och därefter står England och USA-datum på tur.
"Beautiful Trauma" – låtlista
01 Beautiful Trauma
02 Revenge
03 Whatever You Want
04 What About Us
05 But We Lost It
06 Barbies
07 Where We Go
08 For Now
09 Secrets
10 Better Life
11 I Am Here
12 Wild Hearts Can't Be Broken
13 You Get My Love
www.pinkspage.com
www.facebook.com/pink
www.instagram.com/pinkofficial
www.twitter.com/pink
www.youtube.com/user/PinkVEVO
Om P!NK:
Since her debut in 2000, P!NK has released six studio albums, 1 greatest hits album, sold over 42 million albums, over 75 million singles, over 2.4 million DVDs worldwide and has had 15 singles in the top 10 on the Billboard Hot 100 chart (four at #1). In addition, she is the recipient of three Grammy Awards, one Daytime Emmy Award, three Billboard Music Awards, six MTV Video Music Awards, two MTV Europe Awards, two People's Choice Awards and was named Billboard's Woman of the Year in 2013. She has sold out arenas all over the world, made her acting debut in Lionsgate's Thanks for Sharing and released a side project with singer/songwriter Dallas Green entitled You+Me. Last year, P!NK released "Just Like Fire" from Walt Disney Studios' feature film Alice Through The Looking Glass. The track was #1 on the Adult Contemporary Chart for 6 consecutive weeks and has over 155 million views of the music video. P!NK was featured on Kenny Chesney's "Setting The World on Fire," marking her first #1 on the Country Airplay Chart and Hot Country Songs Chart. The track also received a 2017 Grammy nomination for Best Country Duo/Group performance earning P!NK her 18th Grammy nomination.
P!NK is a huge supporter of various charities, including: Make a Wish Foundation, Autism Speaks, Human Rights Campaign and No Kid Hungry. She was formerly a spokesperson for COVERGIRL and remains on the UNICEF team as an Ambassador.
© Sony Music Entertainment Sweden