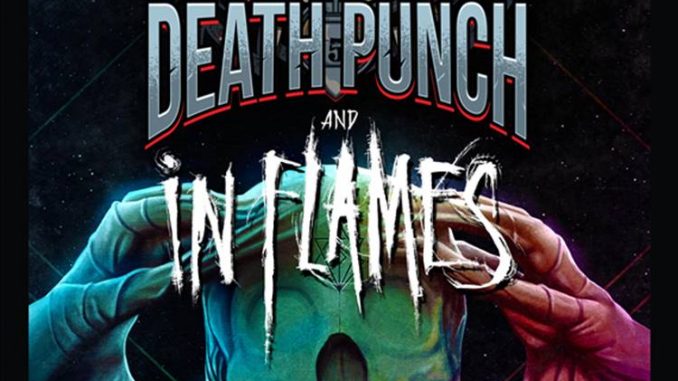 Klicka på bilden, för att se hela bilden
FIVE FINGER DEATH PUNCH VAR ET AF HOVEDNAVNENE PÅ ÅRETS COPENHELL FESTIVAL, OG SEJREDE FORAN EN FYLDT PLADS PÅ HELVITI SCENEN. IN FLAMES SPILLEDE LIGELEDES PÅ COPENHELL, OG TIL EFTERÅRET GÅR DE TO BANDS SAMMEN SAMMEN FOR AT SPILLE ARENA ROCK TOUR 2017. EN 5-UGERS TOUR TVÆRS GENNEM EUROPA OG STORBRITANIEN.
SUPPORT FRA OF MICE & MEN.
BILLETSALGET TIL DEN DANSKE KONCERT STARTER 10. AUGUST KL. 10.00
Et sandt "clash of the titans", når amerikas førende multiplatin sælgende hard-rockband Five Finger Death Punch slår sig sammen med de berømte hitliste-toppende europæiske legender In Flames for at co-headline det, der ser ud til at blive den største og mest spændende arena rocktour i efteråret/vinter 2017. Dette er første gang, at disse to megabands tager på landevejen sammen, og man bør ikke gå glip af dette show! Turnéen hærger arenaer i hele Europa og Storbritannien og begynder i november, har stop i de fleste større byer og afsluttes 21. december på ikoniske Wembley Arena i London.
5FDP guitarist Zoltan Bathory states: "We are currently playing all the European festivals and are having an amazing time. As these massive crowds are singing along every word of the lyrics, it feels like Europe is truly becoming the second home of Five Finger Death Punch. We can't wait to come back this Fall and especially with In Flames which is one of my favorite bands. This will be something special to see…"
In Flames singer Anders Fridén offers: "We've been lucky to play for so many Jesterheads around the World this year and can't think of a better way to end 2017 than touring Europe with Five Finger Death Punch. We'll see you soon Jesterheads and Knuckleheads. It's going to be a tour to remember."
Support ved udvalgte EU-datoer og alle UK-datoer for turen kommer fra Of Mice And Men. Det Orange County, CA-baserede band blev vendte for nyligt tilbage med to helt nye sange, "Back To Me" og "Unbreakable" via Rise Records. De spillede en succesfuld koncert på hovedscenen på Download Festival her i sommer, og har turnéeret Europa i løbet sommeren. Bandet har solgt over 700.000 albums verden over og tidligere turneret med bands som Linkin Park, Slipknot og Marilyn Manson.
Både Five Finger Death Punch og In Flames er fortsat pionerer på den globale hard rock og heavy musikscene. Læs mere om de to bands herunder:
Five Finger Death Punch's crushingly epic 2015 sixth full-length studio albumGot Your Six, hit new heights for the band around the world with chart-topping debuts in the US (#1 on Top Album chart, #1 on Overall Digital Album chart, #1 on the Hard Music Album chart, #2 on the Billboard Top 200) and internationally (Australia & Canada #3, Germany & Sweden #5, UK #6 Holland #17, Belgium #29 and France #32). The album was the sixth consecutive one to earn the Las Vegas rockers a RIAA Gold certification. Acclaimed by The Guardian and Classic Rock, it yielded four successive Active Rock smashes "Jekyll & Hyde"(50.4 million Spotify streams), #1 hit single "Wash It All Away" (32.9 million Spotify streams), "My Nemesis" #2 (16.29 million Spotify streams) and most recently "I Apologize" #3 (17.5 million Spotify streams). Refining their inimitable fusion of intricate instrumentation and undeniable hooks, Got Your Six represents yet another high watermark for the group who claim 17 consecutive Top 10 Hits, five #1 songs and frequently outsell the majority of bands in their genre.
12 albums into their storied career, In Flames reached new heights on 2016'sBattles—produced by GRAMMY Award winner Howard Benson [My Chemical Romance, Papa Roach], hitting Top 10 charts around the World with a #2 in Sweden, #3 in Finland and multiple other major countries such as Germany and Austria. Alternative Press, Metal Hammer, and more praised the record as the hit "The End" clocked over 6.6 million Spotify streams and counting. Most recently, they unleashed two new official music videos for their latest singles; first being "Here Until Forever" and "Save Me"
Knuckleheads and Jesterheads: Be prepared to unite in the name of Five Finger Death Punch and In Flames making history together this Fall.
TOUR DATES:
11/16 Gothenburg Sweden Scandinavium
11/17 Stockholm Sweden Ericsson Globe
11/20 Copenhagen Denmark Royal Arena
11/21 Hamburg Germany Sportshalle
11/22 Berlin Germany Velodrome
11/24 Oberhausen Germany KP Arena
11/26 Prague Czech Republic Forum Karlin*
11/28 Zurich Switzerland Hallenstadion*
11/29 Munich Germany Olympiahalle
11/30 Padova Italy Geox Theatre*
12/2 Stuttgart Germany HMH Schleyerhalle
12/4 Paris France Olympia*
12/5 Luxembourg Luxembourg Rockhal*
12/6 Frankfurt Germany Festhalle
12/8 Vienna Austria Stadthalle*
12/14 Antwerp Belgium Lotto*
12/15 Amsterdam Netherlands AFAS Live*
12/17 Birmingham UK BCA*
12/18 Glasgow Scotland Hydro*
12/20 Leeds UK Leeds Arena*
12/21 London UK Wembley Arena*
*With Of Mice And Men
Dato
Mandag 20. november 2017 – Royal Arena, København
© Live Nation