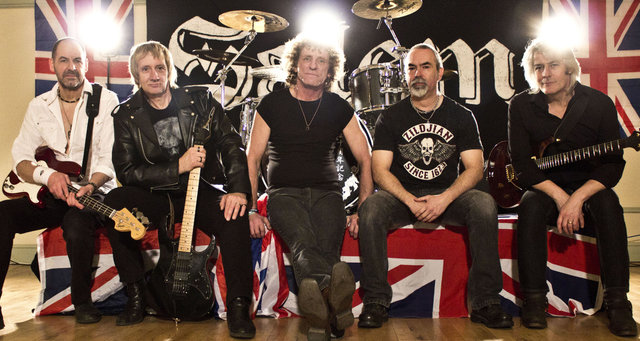 Klicka på bilden, för att se hela bilden
NWOBHM legends SALEM sign with Dissonance Productions
To release their third full length studio album 'Attrition' in 2018
​
Salem formed in 1979 and built a strong following with their heavy rock based on thundering rhythms, soaring twin-guitars and powerful melodies.
The band's 1982 single sold globally and continued gig across the northeast of England before folding in May 1983.
In 2010, Salem's original recordings were released on the album "In The Beginning." This attracted great interest, so the band reformed and played its first gig in twenty-seven years! In 2011, Salem recorded three new tracks for the "New Tricks" limited edition EP and played again to launch the EP.
The band played a number of events in Europe in 2012 including the Heavy Metal Festival V in Italy, Negasonic and Ages of Metal in Belgium, and back home at the Metieval Winterfest back in Hull.
Salem released the "X Rated" EP for BROFEST#1 in Newcastle in March 2013, including a bonus new recording of the 1980s song "Reach To Eternity".
The album "Forgotten Dreams" was released in December 2013 by Pure Rock Records and has received excellent reviews.
In 2013, Salem played gigs in the Netherlands, Germany and UK, and in 2014 the band played at Play It Loud, Italy, Very 'Eavy Festival, Netherlands, Headbangers Open Air, Germany, in Glasgow, Scotland, at Rock Diabetes Festival, England, in Paris, France, at Rock You To Hell Festival, Athens, Greece, and in Dubai, United Arab Emirates.
In 2015 Salem played gigs and festivals including a great slot at Wildfire Festival, Scotland (with Diamond Head, TEN, Empire, Tygers of Pan Tang…), BaaaM Festival in Germany, headlining at the RockWich fest in Cheshire, and British Steel Festival, France.
The band recorded the album "Dark Days" at Hairy Monster Studios again: this included a collaboration with Manny Charlton. The album was released on 29th April 2016 and has been described as, "simply flawless from start to finish" and is considered one to the top albums of the year.
Salem played a series of gigs and festivals in 2016 including Muskelrock in Sweden, a return to Headbangers Open Air, Heavy Metal Maniacs in Netherlands, and gigs in Belgium and in UK with Tygers of Pan Tang, Diamond Head, Witchfynde and Spartan Warrior.
Events in 2017 include more gigs in Barcelona Spain, Belgium, France and the UK!
They have recently been rated with Iron Maiden, Saxon, etc. as one of the top 10 NWOBHM bands that are "better than ever" – http://whatculture.com/music/10-new-wave-of-british-heavy-metal-bands-that-are-better-than-ever.php
"Dark Days" is considered a top album of 2016 – http://www.worshipmetal.com/features/the-10-greatest-nwobhm- releases-of-2016/3/
Paul / Salem comments :
"We are delighted to have signed with Dissonance Productions – their knowledge and experience, combined with Plastic Head's world-renowned distribution, all represent a very positive step forward for Salem.
The new album, Attrition, has been over a year in the making, and we are confident that our fans will love it. Once again the focus is on strong melodies, with a hard rock/NWOBHM flavour, and high-octane delivery.
We are looking forward to working with Steve, Tom and the rest of the team for many years to come."
Steve Beatty / Dissonance comments:
"What to say? It's great to have Salem on the label! They are back with a renewed energy, what I have heard so far from "Attrition" is exciting and worth any metal-head's attention. 2018 is going to be a great year from Salem and their fans – a great record will hopefully be followed a lot of live shows!
Homepage
Facebook
Twitter
Reverb Nation
Youtube
© Dissonance Productions