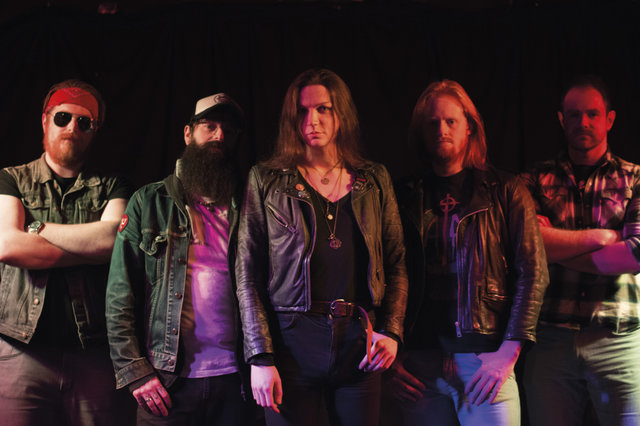 Klicka på bilden, för att se hela bilden
Born out of a desire to play live, Eliminator began when guitarists Jack and Matt met at Lancaster University and started jamming together. Motivated entirely towards the aim of live performances, this incarnation of the band played their first gig in 2008. After a couple of years of gigging a stable lineup of strong musicians eventually came together. With Jamie on bass, Dave on drums and Tak fronting the band, Eliminator had garnered enough live experience and written enough original material to begin recording.
Entering into a hastily constructed DIY studio in late 2010, the band recorded their first release, the We Rule the Night EP. The EP was released on CD and vinyl during 2011 and proved to be popular with heavy metal fans, earning Eliminator gigs and festival slots across the UK.
Spurred on by the success of the EP, the band began working on new material and once again entered the studio in late 2011; although this time with the luxuries of an experienced engineer and professional equipment. The resulting tracks were released on The Seer 7" single in 2012, which was received well by those who heard it but suffered from a lack of promotion by the label.
In summer 2012, after a successful performance at Muskelrock, front man Tak left the band and Eliminator were in limbo without a singer until 2013 when a friend of the band and former Skyclad guitarist, Dave Pugh stepped up to fulfil vocal duties. With Dave on board, Eliminator played a number of gigs and festivals throughout Europe and released a demo in 2015, titled (confusingly, in hindsight) 2019.
However, due to commitments with a reunited Skyclad, Dave stepped down from Eliminator in 2015 and the band were once again left without a vocalist. A period of inactivity followed, while the search for a suitable front-man was underway.
In late 2016 the band received a tip that Danny, a long-time friend and supporter of Eliminator, was an excellent heavy metal singer looking for a band. After auditioning, Danny impressed the band with his ability and he was asked to join Eliminator. With Danny at the helm, live performances were resumed and after a gig in London during March of 2017, Eliminator caught the attention of Dissonance Productions.
Jack/Eliminator comments:
"We are excited to finally have the opportunity to record our debut album. We've been eager to do this for a long time, but a streak of misfortunes prevented us from pressing forward. However, now we have chance to record in an excellent studio and release our first full length with the backing of Dissonance Productions, which was something we never expected. We are extremely enthusiastic about what will be happening in the coming months.
There's a great deal of new material that we've been sitting on that we are anxious to unleash and now we have Danny on board there's more scope for what we're able to do musically.
Right now, we can't wait to get into the studio, get this album recorded and released. Once it's out we'll get back to something we've sorely missed: playing plenty of gigs!"
Steve / Dissonance comments:
"I saw the band live and they simply blew me away! There's so much potential, just imagine if they put together a great sounding album with these songs… and now I'm pleased to say the band enter Skyhammer in October and I cant wait for the results!"
© Dissonance Productions