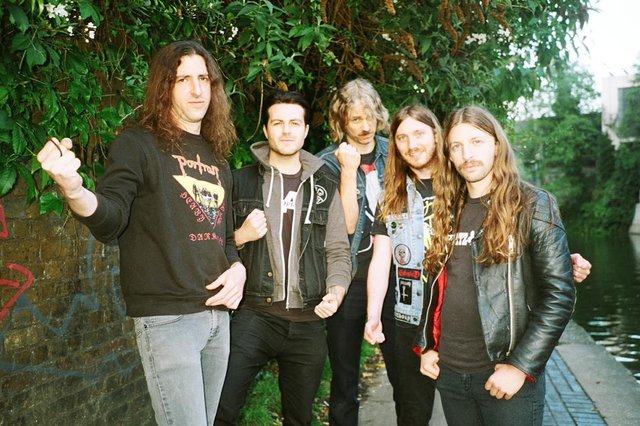 Klicka på bilden, för att se hela bilden
London Metal warriors AMULET sign to Dissonance Productions
Amulet are pleased and excited to sign with Dissonance. The label are passionate about the scene and have a fantastic roster of classic and modern bands who we love. We've been working hard crafting a heavy and stimulating second album. We're confident about it and keen to drop the platter early next year. We're also looking forward to playing these new songs live as much as possible over the next 12 months. Watch out!"
Amulet are a blinding Heavy Metal act who have led the charge for song-focused Heavy Rock in London since 2010. The five- piece is inspired by the golden era of Heavy Metal and Hard Rock but with a focused riff-heavy sound of their own. You can expect well-structured songs with catchy vocals, soaring leads and bone shaking bass, driven to the limit by pounding drums. And you can also expect their evil mascot The Hangman to prowl the stage when you see them smash heads live!
Following their lauded and re-pressed 'Cut the Crap' EP (2011) and debut album 'The First' (Century Media, 2014) the band have had many successful excursions to Europe and Canada, with many noted festival performances around the globe. After releasing a demo of new track 'Highwayman' on British Steel Volume 1, Amulet are due to record their forthcoming second album ahead of its release in early 2018 by Dissonance Productions.
Jamie Elton – Vocals
James 'Nippy' Blackford – Lead Guitar Marek 'Heathen' Steven – Guitar
Sam Mackertich – Bass
Neil Hunt – Drums
Amulet lead the charge on the upcoming BRITISH STEEL album out on Dissonance Productions on October 29, 2017
On BRITISH STEEL you'll hear Amulet, Aggressive Perfector, Eliminator, Dungeon, Dark Forest, Toledo Steel, Vuil, Seven Sisters, Insurgency, Neuronspoiler and Wytch Hazel.
TRACKLIST
1. Amulet – Highwayman
2. Aggressive Perfector – Harlot's Spell
3. Eliminator – Lost To The Void
4. Dungeon – Queen Of Sin
5. Dark Forest – Where The Arrow
6. Toledo Steel – Rock Nights
7. Vuil – Iron Witch
8. Seven Sisters – The Witch's Eye
9. Insurgency – Destined For Death
10. Neuronspoiler – Slay The Beast
11. Wytch Hazel – Freedom Battle
© Dissonance Productions