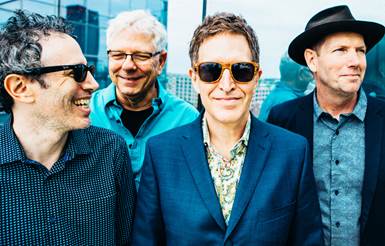 Legendary indie rock band The Dream Syndicate will release their fifth studio album, How Did I Find Myself Here? on September 8th. It's the band's first album since 1988's Ghost Stories. Today, the Dream Syndicate shares a new single "Glide".
Formed in Los Angeles in 1981, The Dream Syndicate was founded by current members Steve Wynn (guitar, vocals) and Dennis Duck (drums), along with Karl Precoda (guitar) and Kendra Smith (bass). With its widely celebrated 1982 debut The Days of Wine and Roses, the band soon emerged at the forefront of the 1980s college-rock scene.
Over the years, the Dream Syndicate has proven to be a massively influential force in the world of alternative rock, with artists like Kurt Cobain listing the band among their inspirations. As Wynn points out, the band itself was greatly influenced by underground pioneers like the Fall, the Gun Club, Neu!, and Big Star.
This fall, the Dream Syndicate will tour throughout Europe in support of How Did I Find Myself Here? Tour dates are listed below.
October 14th, 2017 – Oslo – Rockefeller (NO)
October 15th, 2017 – Göteborg – Pustervik (SE)
October 16th, 2017 – Stockholm – Kägelbanan (SE)
October 18th, 2017 – Copenhagen – VEGA (DK)
For more information on the Dream Syndicate, visit:
Webpage
Facebook
Twitter
Instagram
© Playground Music