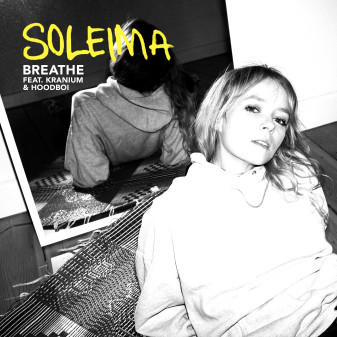 Klicka på bilden, för att se hela bilden
SEE SOLEIMA LIVE AT THE WAY OUT WEST PRE-PARTY, AUGUST 13TH, KÄGELBANAN STOCKHOLM
Soleima has cast an enigmatic and hypnotic spell with her debut mini-album 'No.14'. It presents an artist with a singular take on pop which is it once immediately engaging and fascinatingly off-kilter. The Danish musician's heady cocktail of pitch-shifted synths, R&B, future bass and an undercurrent of world music is already something quite apart from the pack, but her vocal – simultaneously otherworldly, childlike in its innocence and sweetly sensual – elevates her individualistic style to another level.
These traits all resonate in her new version of album track and Hoodboi collab 'Breathe' which has now been boosted with a fresh new feature courtesy of Kranium. The Jamaican dancehall star behind the hits 'Nobody Has To Know' and 'We Can' brings an intoxicating island vibe to the 'Breathe' which adds another layer of invention to the track's modernist alt-pop.
While her tracks escape easy genre classification, Soleima's own story is similarly unconventional. Raised in Aarhus, a city on the Jutland peninsula, Soleima grew up in a family home soundtracked by classic soul and R&B, notably Aretha Franklin, Stevie Wonder and Otis Redding.
So far, so normal? Pretty much. Yet that's only a snippet of the tale. Soleima's mother took her to an African dance camp which operated as a cultural exchange between Denmark and Sukumaland in Tanzania, and she soon became enamoured with their music – especially with their collection of traditional African drums such as the bunugule. As a young adult, she moved out to Sukumaland for two extended spells, and even organised a grant to allow some of their members to live and teach in Denmark. She subsequently earned a bachelor's degree in Anthropology, did field work in Nepal and started to make a documentary about migration in Senegal.
That open-mindedness informed Soleima's first music project Flødeklinikken, a Danish-language hip-hop septet inspired by A Tribe Called Quest and the Wu-TangClan. Formed as teenagers, the collective released two albums with Soleima on keyboards and – when needed – on vocal hooks too.
"When you've been writing with so many people, you reach a stage where you want to fly out yourself," she explains. The idea was to write for other artists, but the immediacy of her connection with producers Vera and Vasco convinced her to further "explore the universe" that her organically-infused electro-pop now inhibits. "People have difficulties defining our genre because their background is in rock music and I come from hip-hop and this African dance environment."
Ultimately Soleima's unique trait is in uniting disparate styles – cutting-edge productions with an immediate pop core, and relatable lyrical themes which simultaneously explore societal issues and the very meaning of what it is to be human.
BREATHE IS AVAILABLE ON ALL DIGITAL PLATFORMS NOW. LISTEN HERE
"No. 14 is an odyssey of crossover joy and experimentation with the straight-up banger "Cracks" and sparse electro-ballad "This Life" book ending the project." – The Line of Best Fit
"Soleima is set to become a new alt-pop sensation." – Notion
"Music that's moody, dancy and garnering quite a few Mø comparisons." – Noisey
"Incredible dope vocals and ultra-cool production." – The 405
© Deerlily Music