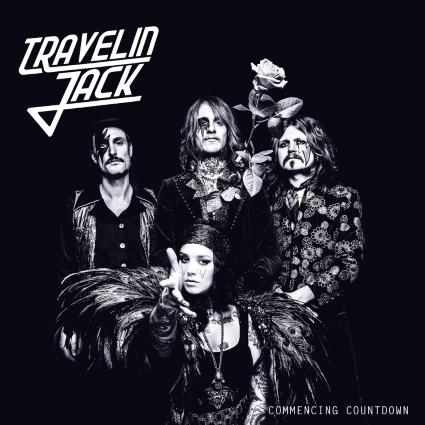 Klicka på bilden, för att se hela bilden
You can't design rock´n`roll at the drawing board. You have to feel it from within, be really passionate if you want to play this music authentically and convincingly. Flo ´The Fly` Kraemer, guitarist with Berlin rock group Travelin Jack, refers to this phenomenon as "self-entertainment", putting his band's philosophy in a nutshell. He and his three comrades-in-arms, vocalist Alia Spaceface, bassist Steve Burner and drummer Montgomery Shell, are prototypes of passionate rock musicians who won't be deterred from following their chosen path. "We don't care what other people think about us, whether we rub them the wrong way or polarise," says Kraemer. "We do what we believe in and what we enjoy most." This enthusiasm and their uncompromising attitude is the seed that has borne fruit on their upcoming new album Commencing Countdown. From 8 September 2017, Travelin' Jack's latest offering will be released on Steamhammer/SPV as CD Digipak, vinyl LP, download and stream. Mark the day in your calendar, because that's when the annals of rock music will be enhanced by another colourful chapter.
Founded in summer 2013, Travelin Jack have developed into one of Germany's most unusual rock acts over the past four years, establishing their inimitable style, which is tailored to the vocals of Alia Spaceface, with two successful tours and shows at important festivals beyond the German borders. The general flair of Commencing Countdown may bring to mind great rock groups from the seventies, such as Thin Lizzy, Rush, Scorpions and Deep Purple, but the Berlin band's compositions and the warm, analogue production of their new album are both contemporary and modern. Kraemer: "There's nothing retro about our material, we simply prefer the sound of the era when this music was really wicked."
Mind you, only the riff-heavy ´Cold Blood` reminds of Travelin Jack´s debut album New World (2015), while ´Galactic Blue`, for example, goes one step further, heralding with its outstanding space echo parts a new penchant for experimentation. Just like the ballad ´What Have I Done`, which Travelin Jack had only prepared as a rudimentary basic skeleton in order to develop it to its full glory at the studio. Talking of which: Commencing Countdown was recorded by Richard Behrens and Mirko ´Godi` Hildmann at the Schaltraum Studio, an erstwhile broadcasting centre in the formerly East German part of Berlin, where the musicians found the perfect conditions to translate their artistic vision into reality.
"All in all, our new material is a little slower, more grooving and even more haunting than our debut," Kraemer describes his band's compositional evolvement. Their great dynamic and stylistic diversity is reflected by ´Time` in particular, a number which consistently soars, from a quiet beginning to an energetic finale. The musicians' uncompromising attitude is unmistakable from the start, they don't shy away from challenges and have the courage to venture into pastures new. The lyrics of their first single/video, the catchy ´Keep On Running`, are representative of their courageous attitude. Kraemer comments: "You can't have fear rule your life, you should approach things with courage and have confidence in your strengths." ´Journey To The Moon`, which is about being determined to make your dreams come true, has a similar message. Kraemer: "The formula is: don't talk, act!"
This motto is emphasised by the visual trademarks of their explosive live show – the make-up, the platform shoes and the glitter outfits which Travelin Jack are set to don when they present their album Commencing Countdown live on stage soon. As the legendary David Bowie would probably have commented: "I don`t know where I`m going from here, but I promise it won`t be boring!"
LINE-UP:
Alia Spaceface – vocals, guitar
Flo The Fly – guitar
Steve Burner – bass
Montgomery Shell – drums
TOUR DATES 2017:
11.08.D-Plattenburg – Aquamaria Festival
18.08.D-Bad Kötzting – Void Fest
19.08.D-Luckenwalde – Sky Way Jam
07.09.D-Bochum – Zeche (with Wucan)
08.09.D-Münster – Rare Guitar
09.09.D-Berlin – Cassiopeia
21.09.D-Hannover – Mephisto (with Wucan)
22.09.D-Erfurt – Tiko
23.09.D-Dresden – Scheune (with Wucan)
05.10.A-Vienna – Das Bach (with Wucan)
DigiPak Version:
1. Land Of The River 4:31
2. Metropolis 4:04
3. Keep On Running 3:39
4. Cold Blood 4:47
5. Galactic Blue 4:42
6. Time 5:06
7. Miracles 3:51
8. What Have I Done 3:50
9. Fire 4:01
10. Journey To The Moon 3:59
© Border Music Distribution