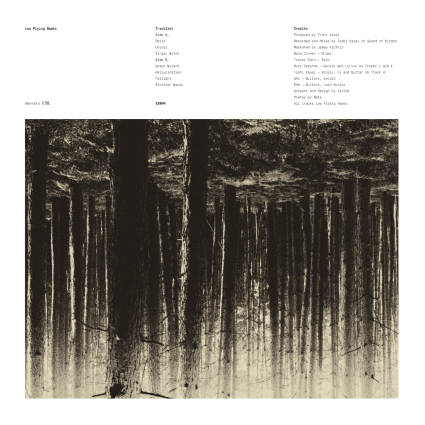 Klicka på bilden, för att se hela bilden
LOW FLYING HAWKS is a self-described "ambient metal" band featuring multi-instrumentalists EHA and AAL alongside dummer Dale Crover (The Melvins) and bassist Trevor Dunn (Mr. Bungle). The group will release its sophomore LP, Genkaku, on August 25 via Magnetic Eye Records. Produced, recorded and mixed by Toshi Kasai (Melvins, Big Business) at Sound of Sirens and mastered by James Plotkin (Electric Wizard, Moon Duo).
Genkaku is the follow-up to LOW FLYING HAWKS' 2016 debut, Kofuku, a record lauded as "metal for a dying world" and "vividly of its time" by Consequence of Sound.
Unlike its predecessor, Genkaku (Japanese for "hallucination" or illusion") also features Melvins frontman King Buzzo, who lends his unique vocals to the album's titanic lead track, "Smile", as well as the awesomely-titled song "Space Wizard". Decidedly doomier and boasting bigger hooks than the debut, Genkaku is more riff-filled land than post-genre shoegaze, overflowing with Melvins-ready guitar work and darkly intense music-as-mood. Like a rumbling rain cloud, the record moves and morphs growing, grumbling and growling before bursting into brilliant sheets of saturated sound that soak speakers with hovering showers of ferocious feedback and electric energy.
"What we are trying to accomplish is that the listener enters a state of trance and confusion. Pounding guitars full of sludgy undertones fill 'Genkaku' from beginning to end, building to a sinister and almost out of body experience," says both AAL and EHA. "This is ideal for anyone who´s willing to let go and hand over control to this hallucinating monster of a record."
Dale Crover adds, "It was great recording with Low flying Hawks. Their psychotic, psychedelic, mind-bending compositions will take you on a journey through your inner space." Toshi Kasai calls the finished album "A delicious mud-cake by LFH, flavored by Dale Crover and Trevor Dunn."
© Magnetic Eye