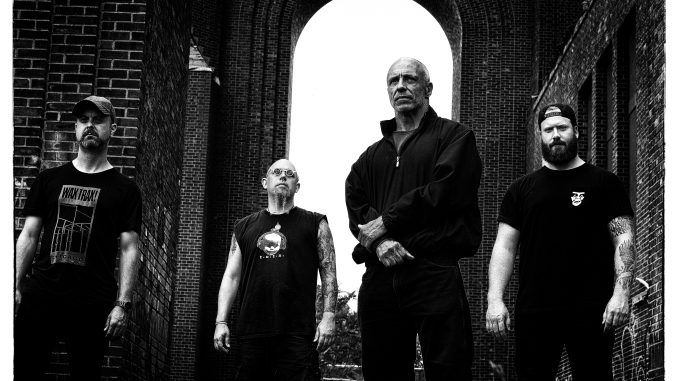 Klicka på bilden, för att se hela bilden
"as detailed and cacophonous as they've always been" – Pitchfork
Controlled Bleeding is an experimental music group based in Long Island, New York. The group was founded by Paul Lemos, the group's only consistent member. Most of Controlled Bleeding's released recordings feature two main collaborators, Chris Moriarty and vocalist Joe Papa, who both passed away in the late 2000s.
Since their first full-length release, Knees and Bones, in 1983, Controlled Bleeding have released a number of albums spanning several different genres, many of which were released on notable independent labels. Their cross-genre approach combined with the out-of-print status of many of the group's early releases is reminiscent of the work of other experimental groups of the 80s and 90s such as Coil and Swans. But Bleeding continues today, creating strange new works, perhaps the most challenging of their long career.
In 2016 the group signed with Toronto-based Artoffact Records to reissue their extensive discography, as well as to release their first all-new studio album in over 10 years, Larva Lumps & Baby Bumps. The release received praise from Pitchfork, the Wall Street Journal, Outburn Magazine, Decibel Magazine, and many other reputable media outlets.
Following 2016's much-lauded Larva Lumps & Baby Bumps​, Controlled Bleeding returns now with Carving Songs​, a massive remix album totaling 20 tracks, including a 21st track, TROD, a brand new Controlled Bleeding composition which founder Paul Lemos referred to as "a really a major piece for us… a VERY dark song."
The hand-picked cast of remixers includes Japanese noise-guru Merzbow​, Justin K. Broadrick from industrial-metal act Godflesh(not to mention Jesu​), as well as Monolake​​, Ramleh​, Child Bite​, and many others. Even notorious experimental guitarist (and current Lydia Lunch Retrovirus​ member) Weasel Walter​ makes an appearance.
The remixes range from straight up power noise, to post-black metal, to industrial-influenced beats, and are as varied as Controlled Bleeding itself, a project known for being impossible to classify. An essential release in the long, storied history of one of America's foremost experimenters.
PRE-ORDER: Controlled Bleeding – Carving Songs
Controlled Bleeding – Carving Songs
1. TROD (Defiler's Song)
2. Carving Song (Monolake Remix)
3. As Evening Implodes (Barnacles Remix)
4. The Swarm Of Sweettooth (Child Bite Remix)
5. As Evening Fades (Murmur Remix by Renalod & The Loaf)
6. Carving Song (Zeitkratzer Remix)
7. Fusion Song (Contrast Remix by Le Syndicat)
8. Needlle Evening (Remix by Tim Story)
9. Carving Song (Remix by Child Abuse)
10. As Evening Fades (Remix by Ramleh)
11. Swarm (Remix by Justin K Broadrick)
12. Garage Dub (Rothko Remix)
13. Perks Of Being A Perv (White Dwarf Remix by Controlled Bleeding)
14. A Loathing Supreme (Remix by Crowhurst)
15. Carving Song (Remix by Ron Anderson)
16. Perks Of Being A Perv (Remix by Merzbow)
© Artoffact Records