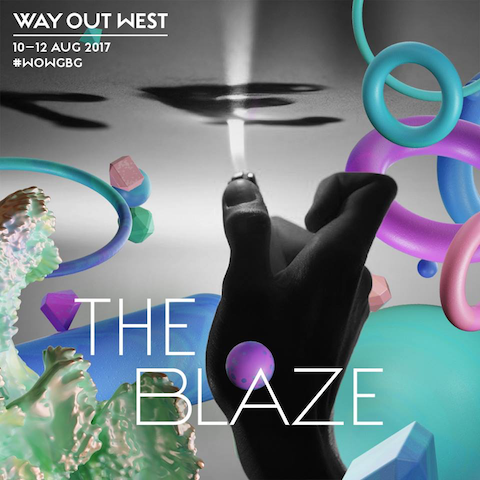 Klicka på bilden, för att se hela bilden
Keeping up the momentum triggered by « Virile », their own vision on poesy, French producer/director tandem The Blaze will kick off 2017 with their debut EP Territory. In this 6-track output, they pursue the initiation rite they invited us to with « Virile », a production that stopped the clock last January, for a brand new effort, mesmerizing yet mighty.
For now on, they're disclosing eponymous track « Territory », following the path opened by « Virile », revealing both powerful images and poignant melodies. « Territory » engages in an exploration to the roots, and the video bring us on board, to stick with a young lad coming back to the now remote place he once called home. Torn between tenderness and savagery, overwhelmed with raw feelings, he embraces both his family, his friends and long forgotten sceneries. Involving a charismatic protagonist, vacillating between fierceness and sensitivity, this new videoembodies The Blaze's rage, whose authenticity-driven adroitness as video and music producers no longer need to be demonstrated.
Introducing French production & director duo The Blaze, here to share their pulsating new single andvideo titled, "Territory".
Taken from their forthcoming debut EP due on Animal63, a new label headed by Savoir Faire and Believe Recordings, the pair's latest output is powerful, compelling and raw.
"Territory" joins poignant melodies and dark rhythms to tell a story of returning home and embracing family, friends and long forgotten sceneries. As directed by The Blaze, the accompanying video sees a man explore his roots in theremote place he once called home. When integrated with the pair's superior production skills, the visuals evoke a constant shift between sensitivity, fierceness and a sparked sense of sentimentality.
"Territory" follows the momentum of The Blaze's debut single "Virile" which exploded onto the scene back in early 2016 via Bromance Records. A brilliant first offering, "Virile" along with their directed video, took the UK by storm, hitting over 600K views on YouTube and winning Best PopAlternative Video at the UK Video Music Awards. The Blaze has since given lush remix treatment to the likes of Joe Hertz and M83, all the while working on their next release.
"Territory" is a highly infectious first offering from The Blaze in 2017, and a stunning taste of what is still yet to come from these two talented producer slash directors.
© Skiva