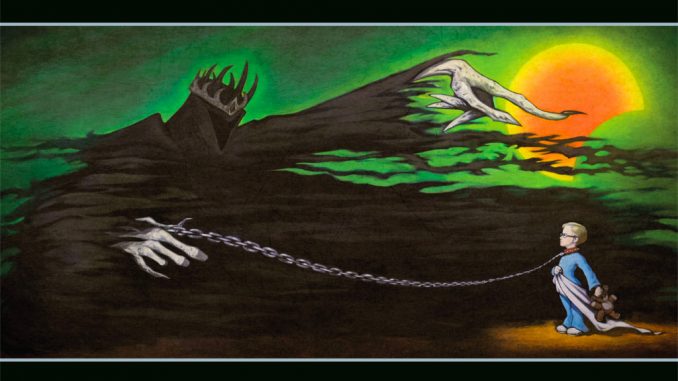 Klicka på bilden, för att se hela bilden
The highly anticipated "The Demon King" EP is the first new music from MCC in 8 years.
With the band having been asleep and some of its members on duty on the roads to the world when doing Ghost, MCC is now back with an EP that contains 5 tracks – each and all it's own journey. From the opening track "The Demon King" – a dark tale of despair, through the midnight highways in anthem "Sway"; rolling by the open plains of hell in "Turn", resting in the hazy love affair in cover track "Jennifer" and finally sleeping the cleansing flames of "Mayfire", MCC have certainly not replicated their 2009 debut "Goodmorning Restrained" as much as they have refined their sound and aura.
The Cover artwork for "The Demon King" EP was done by the brilliant artist David Brinley. Having met with Martin Persner (Vocals / Guitar MCC) outside a show in the US years ago, they became friends and Brinley has since, after having been introduced to the Ghost HQ, done several designs for Ghost. When wanting to depict the Demon King Martin naturally turned to Brinley for help. The cover layout was done by eternal in-house artist Claudio Marino who has worked with the band for more than 10 years. Also a vocalist for MCC's sister band Tid, Claudio is sometimes seen as an external member of MCC in regards to his constant contributions using his art to dress MCC's music. The Recordings took place at Studio Underjord at Secret Location Studios in October 2016. Joona Hassinen was the Engineer and Niels Nielsen (the man behind Dead Soul and engineer for acclaimed Ghost Ep "Popestar") Produced the EP along with MCC. Additional vocals were done by the fantastic Fia Kempe of The Great Discord.
MCC have written all the music and lyrics on the EP, except for "Jennifer" which was written by Bert Sommer a long long time ago, way before anyone involved in MCC had felt love rip them apart.
Order the EP here
LÖVELY RECORDS is also putting out MCC's first two releases "Valiant Visions Dawn" EP (2008) and "Goodmorning Restrained" (2009) in never before seen physical formats (Vinyl & CD) on the 31st of March, 2017.
You can order them here:
About MCC [Magna Carta Cartel] – a brief biography
MCC was formed in Linköping, Sweden, in 2006 by a group of five friends who thought they would make it big one day.
They wrote dreamlike songs fit for a soundtrack, yet a film unseen or still to be made. Through midnight sessions and dawns calling for sleep; through the hells of despair of it all turning to shit; through lack of lust and hope, the boys recorded their debut album "Goodmorning Restrained". It took them three years to finish it. The power of will, one would think. It was finally released, free for digital download only, in 2009 at Sounds Of Zilence. Like a musical message in a bottle once sent out to the seas of sound.
Around this time the band Ghost was founded, and some of the members of MCC went along and away on what would be the ride of their lives; Worldwide Success, Tours, Recordings, Parties, A King turning to Gollum, Princesses turning to Witches and Glory turning to Insanity. MCC had been put to sleep as the there was no time, energy or visions to be spared or shared for anything else but Ghost. Meanwhile, that musical message in the bottle, once sent out to the seas of sound in a last manoeuver to reach out to anyone, someone or everyone, seemed to reach the shores both here and there. People from all over started to listen to MCC [Magna Carta Cartel]. Interest was shown. Letters were written (never meaning to send). Songs and Demands were heard.
Then something happened.
And now,
Times have changed. Tick tock.
Time to wake up. Time to run.
MCC Lives.
MCC [Magna Carta Cartel] sends their regards:
"We are MCC from Sweden. We play magical rock music. MCC writes and performs radio-edited movie themes, for daily life and death. Our music reminds of Vangelis meeting Tom Petty, trying to reach U2, willing to be Joy Division, feeling like ABBA, longing to be Brian Eno, remembering Jean Michel Jarre, looking at Metallica, sleeping with Mike Oldfield, dancing to Koto, hunting the Beatles, killing Morricone in a duel, snorting to Moroder etc etc."
MCC Official Facebook Page
MCC Spotify
MCC Official Website
Lövely Records
Lövely Records Facebook
© Lövely Records