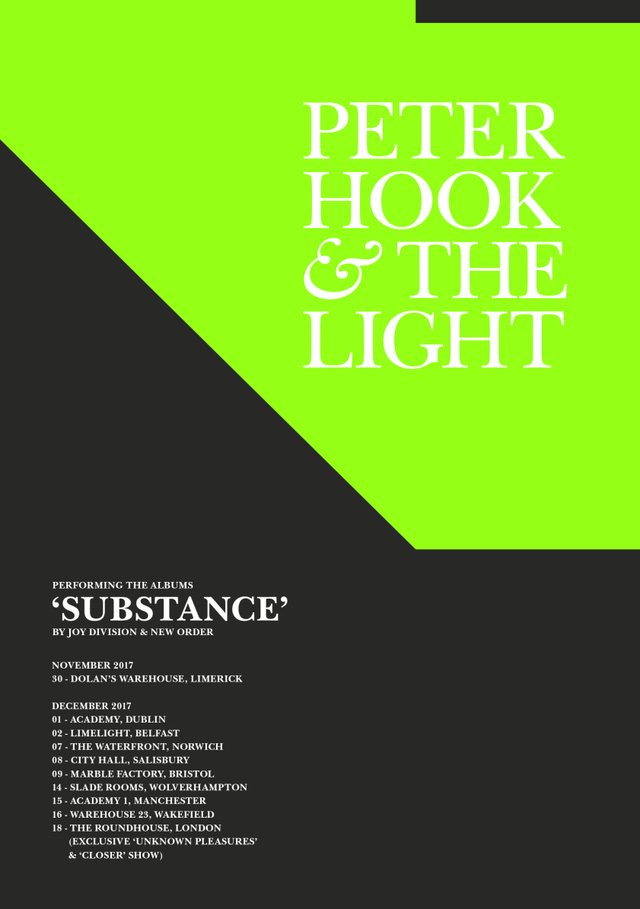 Klicka på bilden, för att se hela bilden
Peter Hook & The Light are to return to Ireland and play more UK dates in November and December 2017 as they return from their widely acclaimed world tour performing both Substance albums by Joy Division and New Order.
Having just wrapped up a string of UK dates, the Irish section of dates sees visits to Limerick, Dublin and Belfast whist the band also perform in Norwich, Salisbury, Bristol, Wolverhampton and Wakefield with a massive end of year tour homecoming concert also announced for Manchester Academy 1.
In addition, a special London return has been announced as The Light's final show of the year at The Roundhouse, Camden where they will be playing Joy Divisions' two albums in full along with a support set of New Order material.
Critical reaction from fans and media alike have been very strong with many commenting on the strength of the shows and performances. The debut Manchester Apollo show was awarded five stars from the Manchester Evening News – "the place is packed and the atmosphere electric" – and similar reviews and reactions have followed the band on their travels so far.
"In the two-and-a-half hours Peter Hook & The Light were on stage, it was hard to fathom how many hits New Order and Joy Division had. Just within the first hour, there were enough songs that some artists today wish they could both write and have in their arsenal. That is what great chemistry in a band does." Huffington Post
"A brilliant night, a celebration of the music of Joy Division and New Order. That is Hooky's mission and this was easily mission accomplished." Everything Flows
"A real treat." LA Record
PETER HOOK AND THE LIGHT PERFORMING 'SUBSTANCE' THE ALBUMS OF JOY DIVISION & NEW ORDER
April 2017
7 – Teatro Quirinetta, Rome, Italy
8 – Druso Circus, Ranica (BG), Italy
9 – Estragon Club, Bologna, Italy
28 – The UC Theatre, Berkeley, CA, USA
29 – Summit Music Hall, Denver, CO, USA
30 – Fortress Festival, Fort Worth, TX, USA
May 2017
11 – Students' Union, Hull, UK
12 – Koncerthuset 2, Copenhagen, Denmark
13 – Train, Aarhus, Denmark
July 2017
15 – Chiddingly Rock Festival, Chiddingly, UK
16 – Dartford Festival Dartford UK
August 2017
4 – Kanalrock Festival, Horten, Norway
5 – Rewind North, Cheshire, UK
19 – W Festival, Wortegem, Belgium
September 2017
1st – Electric Fields Festival Scotland
2nd – Music Exchange – Shibuya Japan
5th – The Studio, Auckland (The Light – Substance)
7th – The Metro Theatre, Sydney (The Light – Substance)
8th – Tivoli Theatre, Brisbane (The Light – Substance)
10th – The Gov, Adelaide (The Light – Substance)
13th – The Corner Hotel, Melbourne (The Light – Substance)
16th – Astor Theatre, Perth (The Light – Substance)
28th – Paris, La Trianon (The Light – Substance)
October 2017
24 – Paradiso, Amsterdam, Holland.
25 – Maassilo, Rotterdam, Holland.
26 – 013 Poppodium, Tilburg, Holland.
November 2017
23 – Moon Club, Valencia, Spain.
24 – Sala Arena, Madrid, Spain.
25 – Sala Apolo, Barcelona, Spain.
30 – Dolan's Warehouse, Limerick, Ireland
December 2017
1 – Academy, Dublin, Ireland
2 – Limelight, Belfast, UK
7 – The Waterfront, Norwich, UK
8 – City Hall, Salisbury, UK
9 – Marble Factory, Bristol, UK
14 – Slade Rooms, Wolverhampton, UK
15 – Academy, Manchester, UK
16 – Warehouse 23, Wakefield, UK
18 – Roundhouse, London, UK (Unknown Pleasures / Closer)
"Peter Hook & The Light have developed into a well-oiled machine that – whisper it – actually deliver these songs better than the current line-up of New Order….they've become an impressive tour de force more than worthy of associating themselves with arguably two of the finest back catalogues in rock and roll history." Drowned In Sound
'A masterclass in euphoria and heartache in equal measure…. The chronology of the set played perfectly as high spirits continued to grow right up until the end of the show." Gigwise
"This is New Order reinvigorated, reenergized; Hooky has arguably reclaimed the songs and is delivering them with heart and soul." – Louder Than War
"It was certainly one of those special shows were the venue, artist, and fans all clicked perfectly to make for a very memorable experience and a blazing hot and awesome show by a legendary artist and performer, who in my opinion is the heart and soul of New Order keeping the most authentic live performance of their music alive for old and new fans." Rock Subculture
"By focusing solely on the music, and allowing the songs inherent structure to do the heavy lifting instead of blowing them up into pseudo-stadium cuts, their inherent virtues were that much more apparent. Frankly, these songs rock…..This is Peter Hook and his band taking a chance, dusting off wrongly ignored tunes, and kicking ass. " Punk News
Westworld Recordings To Release Four Live Albums By The Light
Exclusive Limited Edition Numbered Vinyl At Record Store Day 22nd April 2017 /
CD Digipack &Digital Releases 5th May 2017
Westworld Recordings are to release four stunning live albums recorded by Peter Hook & The Light on vinyl, CD and digital with each title featuring the band performing a classic Joy Division or New Order album in its entirety with songs added that were not on those albums: singles, demos and other rarities.
All four albums are to be released as strictly limited edition colour deluxe vinyl versions for Record Store Day 2017 on 22nd April on the Let Them Eat Vinyl label.
This will then be followed by the CD and digital release of all four albums on 5th May 2017.
The titles to be released are:
The Light "Unknown Pleasures- Live At Leeds Cockpit – 29th November 2012
The Light "Closer – Live At The Factory" – 18th May 2011
The Light "Movement – Live At Dublin Academy" – 22nd November 2013
The Light "Power, Corruption & Lies – Live At Dublin Academy" – 22nd Nov 2013
For full details and to order the releases check the Westworld Recordings site
© Westworld Recordings