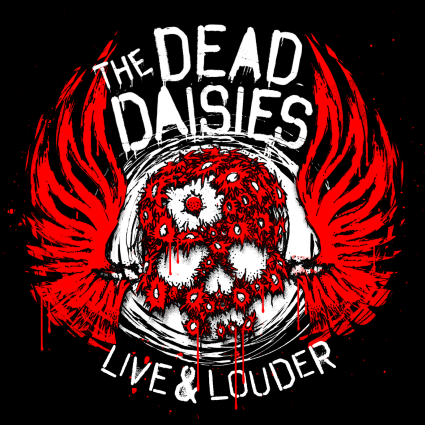 Klicka på bilden, för att se hela bilden
'LIVE & LOUDER', THE DEAD DAISIES' highly-anticipated live outing, set for release on May 19th 2017 on Spitfire Music / SPV, perfectly captures the awesome vibe of their supreme, sweat drenched, roof-raising live sets, recorded on a heady high at the end of an unbelievable 2016.
From the moment they dropped their first single 'Long Way To Go' ahead of their European Festival Summer in June, the hits just kept on coming. The 2nd single 'Join Together' ramped up the release of the third studio album 'Make Some Noise'. The band were well underway touring the USA with KISS, a tour that finished with a sold-out headline show at LA's prestigious Whisky A Go-Go.
The next single 'Song And A Prayer', was released with an accompanying short-film, refocused attention and rang in the final, massive touring phase of the year which saw the band go to Japan for the first time, where they immediately became media and fan darlings and went down a storm at the world-famous Loud Park festival. A string of dates in Korea for the USO and, as the year's grand finale, a massive UK & European Co-Headline Tour that played 30+ shows to sold-out venues.
The 'Daisies' as they are affectionately referred to by their fans, quickly became people's favourite live band with their relentless energy, stellar musicianship and unabashed joy in bringing the rock back into roll. The big question at signing sessions after each show and on the band's social media channels continued to be: "When will there be a live album?". People simply could not get enough of them live.
Not to turn down a good opportunity, the band recorded a number of shows on the UK & European Tour and, with the team that already made 'Make Some Noise' blow speakers worldwide. The album was mixed by Anthony Focx (Aerosmith, Bad Company, Metallica, Santana) at Focxhole Studios and mastered by Howie Weinberg. They assembled a true monster in the vein of the great Live Albums of the 70s. You can feel the sweat drip from the ceilings, the energy of the crowd becoming one with the band, screaming, hollering and forgetting about the often mundane reality for a night of true Rock'n'Roll. Warts 'n all, 'LIVE & LOUDER' is a document of a band in their prime, a raw slice of visceral energy, an in-your-face assault on the senses. Simply: THE DEAD DAISIES in their element and at their best!
Lead singer John Corabi adds: "We're extremely excited and proud of our new album 'LIVE & LOUDER'!!! A lot of the fans have been writing to us and saying how much they LOVED our records but were even more blown away by the band live!!! So this documents our last U.K./European tour, and also shows the world how truly loud and supportive The Dead Daisies fans are!!!! Thank you and Turn It Up!!!!"
'LIVE & LOUDER' will be released in a number of different, exciting formats. Again, the band listened to what the fans wanted and added a spectacular vinyl as well as a limited-edition box set that features, among other cool trinkets, an exclusive 7" vinyl single recorded at The Zoo at Planet Rock Radio's highly coveted London fan-only gig in November 2016.
LINE-UP:
Brian Tichy (Ozzy Osbourne, Foreigner) – drums
David Lowy (Red Phoenix, Mink) – guitars
John Corabi (Mötley Crüe, The Scream) – vocals
Doug Aldrich (Whitesnake, Dio) – guitars
Marco Mendoza (Thin Lizzy, Whitesnake) – bass
LIVE & LOUDER WORLD TOUR 2017:
EUROPE
Fri 2 Jun Rock Hard Festival | Gelsenkirchen, Germany
Sat 3 Jun Rock In Vienna | Vienna, Austria
Sun 4 Jun Substage | Karlsruhe, Germany
Tue 6 Jun Dynamo | Zürich, Switzerland
Thu 8 Jun Amager Bio | Copenhagen, Denmark
Fri 9 Jun Sweden Rock Festival | Solvesborg, Sweden
Sun 11 Jun Download Festival | Donnington, United Kingdom
Mon 12 Jun Liquid Room | Edinburgh, United Kingdom
Wed 14 Jun Boerderij | Zoetermeer, Netherlands
Fri 16 Jun Le Forum | Vaureal, France
Sat 17 Jun Hellfest | Clisson, France
Sun 18 Jun Graspop Metal Meeting | Dessel, Belgium
Tue 20 Jun Hirsch | Nürnberg, Germany
Wed 21 Jun Hellraiser | Leipzig, Germany
Fri 23 Jun Harley Days Festival | Hamburg, Germany
Sun 25 Jun Bluesiana | Velden, Austria
Mon 26 Jun Bluesiana | Velden, Austria
Tue 27 Jun Rockhouse | Salzburg, Austria
Wed 28 Jun A38 | Budapest, Hungary
Thu 29 Jun Lucerna Music Bar | Prague, CzechRepublic
Sat 1 Jul Freigericht Rockt Festival | Freigericht, Germany
Thu 3 Aug Woodstock Poland | Kostrzyn, Poland
JAPAN
Wed 5 Jul Shibuya Club Quattro | Tokyo, Japan
Thu 6 Jul Umeda Club Quattro | Osaka, Japan
SOUTH AMERICA
Wed 12 Jul Opera de Arame | Curitiba, Brazil (special guest to Richie Kotzen)
Thu 13 Jul Carioca Club | Sao Paulo, Brazil (special guest to Richie Kotzen)
Sat 15 Jul Vorterix | Buenos Aires, Argentina
Sun 16 Jul Teatro Vorterix | Rosario, Argentina
More South American Dates to be announced!
NORTH AMERICA
Full North American Tour to be announced!
© SPV