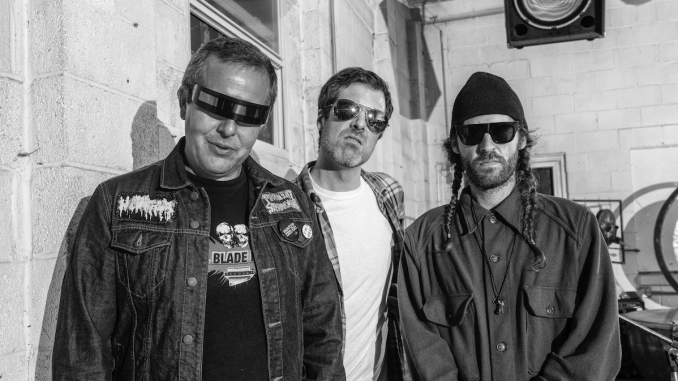 Klicka på bilden, för att se hela bilden
Times of chaos ring the bells for the newest sea-bottom R&B sound lurch from radical sonic artists WOLF EYES. The U$A's longest-running homemade primitive electronic poetry & vibes trio launch another scotched taped nuclear audio front on humanity. The 2017 release Undertow finds the trio diving into new depths of the electronic and free jazz infected world. A world they created themselves from scratch, running over the course of two decades.
The vinyl edition comes with a double-sided foldout A2 poster featuring album artwork on one side and a compilation of gig flyers and imagery documenting twenty years of noise and troubled chaos on the reverse. A full download card is also included.
Formed in 1996 in Detroit, Michigan, WOLF EYES have recorded for Sub Pop, Troubleman Unlimited, De Stijl and most recently Third Man, as well as their countless self-released documents of audio destruction and micro-run slabs of noise. The band has an inzane history of collaborations, side projects and solo outputs. While staying consistently road-hardened they've shared stages with everyone from Sonic Youth to Anthony Braxton to Andrew W.K. to Aphex Twin to Morton Subotnick. The Wolf boys also continue to play gigs with all like-minded outsider stoner/loner freaks in the world's basements, from whence this beast originally emerged.
LOWER FLOOR MUSIC is a brand new imprint dedicated to the group's cultural vision. The Lower Floor Music label will be curated by Wolf Eyes and feature both new and archival visions from the band as well as work by like-minded artists. Lower Floor Music will benefit from a world-wild distribution deal providing fans of electronic music across the globe access to Wolf Eyes' sound-vision and like-minded community spirits. The idea of a home-basement for Wolf Eyes is not new. Since 1998 the band has generated a massive tidal wave of releases nearly adding up to over 500 titles; mostly limited from 2-100 copies. Released on American Tapes, Hanson, AA, Warzone, and countless other independent/homemade labels, these documents often vanished forever into the arcane crypts of collectors. WOLF EYES has the unending thirst to explore every shadowy sonic corner of the homespun audio universe. The band has just launched a BLEEP store which is live right now, check it out here.
"UNDERTOW" and "LOWER FLOOR MUSIC": direct expression from the rotten rat explorers to sink into the seams of your soul.
Listen to a track from a limited bonus CD that comes with initial copies of Undertow below, as well as a live in the studio video from their M.U.G. warehouse below!
LISTEN: Wolf Eyes – "II"
WATCH: Wolf Eyes 'In The Studio'
PRE-ORDER: Wolf Eyes – Undertow
TOUR DATES
3/24 – UK, London @ EXFED Warehouse (New River Studios) – *album launch party*
3/25 – FR, Paris @ Sonic Protest Festival
3/26 – ES, Barcelona @ Freedonia
3/27 – ES, Zaragoza @ Las Armas
3/28 – ES, Madrid @ El Sol
3/29 – PT, Lisbon @ ZDB
3/30 – SK, Bratislava @ Fuga
4/1 – NL, Den Haag @ Rewire Festival
4/2 – UK, Edinburgh @ The Banshee Labyrinth
4/3 – UK, Newcastle @ Sage Gateshead
4/5 – DE, Cologne @ Baustelle Kalk
4/6 – FR, Nantes @ Le Pôle étudiant
4/7 – BE, Brussels @ BRDCST Festival
4/8 – UK, Brighton @ West Hill Hall
4/18 – Montreal, QC @ Casa Del Popolo
4/21 – Providence, RI @ AS220
4/22 – Brooklyn, NY @ Brooklyn Bazaar
4/23 – Philadelphia, PA @ First Unitarian Church
5/20 – Durham, NC @ Moogfest
Wolf Eyes – Undertow
1. Undertow
2. Laughing Tides
3. Texas
4. Empty Island
5. Thirteen
© Lower Floor Music