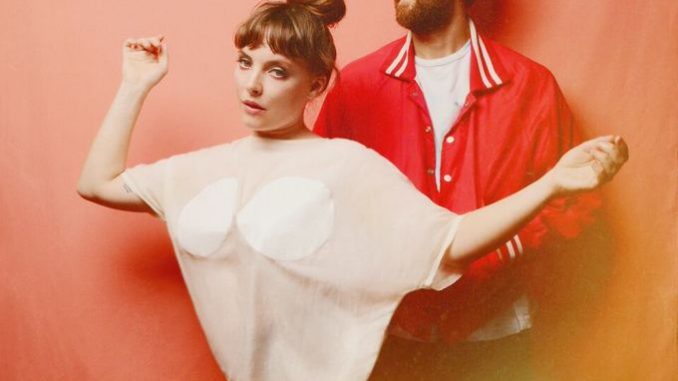 Klicka på bilden, för att se hela bilden
Acclaimed duo Sylvan Esso have announced their long awaited new album today: What Now will be released on April 28th via Loma Vista Recordings. An album that feels urgent and relevant to this particular time in history, What Now asks where we go as a culture when standing at what feels like a precipice.
Anticipation has been building for the followup to their 2014 eponymous debut album, with the band releasing two tracks from the new album, "Radio" and "Kick Jump Twist", as a 12" vinyl and digital single. "Radio" hit #1 on Hype Machine, and has become a streaming powerhouse, amassing 8+ Million streams while rocketing to #1 on Spotify's Viral 50 charts (US and Global) and the band performed the song on The Tonight Show with Jimmy Fallon. The band has shared another track off the record, titled "Die Young."
Sylvan Esso's sophomore album, What Now, is the sound of a band truly fulfilling the potential and promise of their debut. Everything has evolved – the production is bolder, the vocals are more intense, the melodies are more irresistible, and the songs shine that much brighter. However, it is also a record that was made in 2016 – which means it is inherently grappling with the chaos of a country coming undone, the voices of two people nestled in studios around the country who were bemused by what they looked out and saw. It's an album that is both political and personal, and blurs the line between the two – What Now describes the inevitable low that comes after every high, fulfillment tempered by the knowledge that there is no clearly defined conclusion. It's a record about falling in love and learning that it won't save you; about the over sharing of information and the fine line between self-awareness and narcissism; about meeting one's own personal successes but feeling the fizzling embers of the afterglow rather than the roar of achievement; about the crushing realization that no progress can ever feel permanent. It is an album that finds its strength in its own duality. But at its core, What Now is an album of the finest songs this band has ever written- produced masterfully, sang fearlessly- to articulate our collective undercurrents of anxiety and joy.
Leading into the album release, the band appearad at this year's SXSW in Austin. In May, they will kick off of a headlining tour with dates in Europe before kicking off their North American tour in Atlanta on May 13th at the Shaky Knees Festival. The tour will see them play NYC's newest venue, Brooklyn Steel on May 18th, Nashville's historic Ryman Auditorium, multiple nights in Madison, Wi, Portland and Seattle, and top slots at Boston Calling and Eaux Claires festivals.
The duo consisting of Amelia Meath and Nick Sanborn released their celebrated self-titled debut album in 2014 that reached #39 on American Billboard 200 chart and #7 on the Independent Album chart.
The two singles "Hey Mami" and "Coffee" from the album has reached over 55 million streams, and "Hey Mami" was named #1 song by Paste Magazine in 2014.
© Caroline