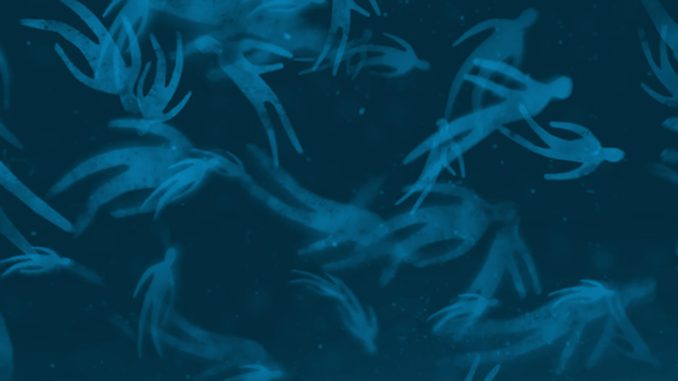 Klicka på bilden, för att se hela bilden
BRIGHT EYES RELEASE "FORCED CONVALESCENCE"
Second Song From Eagerly Anticipated New Album
Following last month's much acclaimed return from a nine year hiatus, Bright Eyes have released a second song from their eagerly awaited new album. The band, who revealed they'd re-grouped in February and released a single – "Persona Non Grata" – in March, have now released a second song: "Forced Convalescence".
It's just two months since the much beloved band revealed their return with news of their signing to a new label, veritable indie Dead Oceans, and slew of live shows which quickly sold out. Those are now, unfortunately, being reassessed while Covid-19 safety measures are in place. While 2020 touring plans are being rearranged, the music continues.
"Forced Convalescence" finds Conor Oberst at his world weary best, picking apart the human condition and struggling to reconcile the past with whatever the future holds. All from the comfort of his bed. The slick, near-joyous sounding fever dream grows into a rich and languid swirl with help from a gospel choir. This may be as close to a Rat Pack-era lounge singer as Oberst has ever come. Albeit one with a head full of prose and existential angst.
"Forced Convalescence" features Conor Oberst (vocal), Nathaniel Walcott (piano, mellotron, synthesizers, harpsichord, choir arrangement), Mike Mogis (electric guitar), Flea (bass), Jon Theodore (drums, percussion) and Kip Skitter (percussion). The Choir are Jason McGee (conductor), James Connor, Quishima Dixon, Natalie Ganther, Anthony Johnson, Edward Lawson, Jennifer Lee, Sharetta Morgan-Harmon and Marquee Perkins. It is produced by Bright Eyes, engineered by Michael Harris and Steve Churchyard – assisted by Chris Cerullo and Chandler Harrod. Mixing by Mike Mogis. Mastering by Bob Ludwig. Written by Conor Oberst and Nathaniel Walcott.
Bright Eyes Refresher:
Sometimes it feels like you hear a Bright Eyes song with your whole body. From Conor Oberst's early recordings in an Omaha basement in 1995 all the way up to 2020, Bright Eyes' music tries to unravel the impossible tangles of dissent: personal and political, external and internal. It's a study of the beauty in unsteadiness in all its forms – in a voice, beliefs, love, identity, and what fills up the spaces in-between. And in so many ways, it's just about searching for a way through.
The year 2020 is full of significant anniversaries for Bright Eyes. Fevers and Mirrors was released 20 years ago this May, while Digital Ash in a Digital Urn and I'm Wide Awake It's Morning both turned 15 in January. The latter, a singer-songwriter tour-de-force released amidst the Bush presidency and Iraq war, wades through incisive anti-war rhetoric and micro, intimate calamities. On the title track and throughout the record, Oberst sings about body counts in the newspaper, televised wars, the bottomless pit of American greed, struggling to understand the world alongside one's own turmoil. In its own way, I'm Wide Awake It's Morning carved out its place in the canon of great anti-war albums by being both present and prophetic, its urgency enduring 15 years later.
In 2011 the release of The People's Key, Bright Eyes' ninth and most recent album, ushered in an unofficial hiatus for the beloved project. In the time since, the work of the band's core members – Oberst, multi-instrumentalist Mike Mogis, and multi-instrumentalist Nathaniel Walcott – has remained omnipresent, through both the members' original work and collaboration.
And while 2020 is a year of milestones for the band, it's also the year Bright Eyes returns, newly signed to indie label Dead Oceans. Amidst the current overwhelming uncertainty and upheaval of global and personal worlds, Oberst, Mogis, and Walcott reunited under the moniker as both an escape from, and a confrontation of, trying times. Getting the band back together felt right, and necessary, and the friendship at the core of the band has been a longtime pillar of Bright Eyes' output. For Bright Eyes, this long-awaited re-emergence feels like coming home.
INTRODUCING SKULLCRUSHER; NEW SECRETLY CANADIAN SIGNING – DEBUT SELF-TITLED EP OUT JUNE 26TH
Secretly Canadian is proud to introduce their new signing, Skullcrusher, the project of LA-based songwriter Helen Ballentine. Today, she announces her debut, self-titled EP, out June 26th, and presents its lead single/video, "Places/Plans." Skullcrusher is, by all accounts, an exploration of the ways you become yourself when you aren't looking – a hushed celebration of the tiny, understated subtleties that culminate into self-realization. On the "Skullcrusher" EP, Ballentine offers an airy, intense, and unflinchingly open collection of songs written about – and from – one of life's in-between gray areas and the subsequent search for identity.
Ballentine has been playing music for most of her life — piano from age five, guitar since high school — but her songwriting didn't emerge until later. After moving from her home in upstate New York to Los Angeles to study studio art in college, a trajectory she had been on since she was a teenager, Ballentine quit her full-time gallery job. Suddenly faced with a peculiar freedom, she decided to seriously pursue music for the first time.
The four dark, dreamy songs on the "Skullcrusher" EP, which she worked on alongside producer Noah Weinman, were influenced by a strange-but-fitting amalgamation of media consumed in the immediate aftermath of quitting her 9-5. There's Nick Drake, ambient electronica, and Valerie and her Week of Wonders, the Czech new-wave film that went on to inform Skullcrusher's aesthetic. There's Ballentine's love of fantasy and surrealism, her appreciation of the way fantasy novels juxtapose beauty and violence (perhaps a nod to her unusual moniker, as well).
While nannying on the side to make ends meet, she wrote "Places/Plans," her first song for Skullcrusher, a little over a year ago. "Places/Plans" floats with soft guitar and Ballentine's hypnotic voice, inviting the listener into the depths of her personal, intense solitude. Its accompanying lyric video, directed by Ballentine, stitches together clips of Ballentine performing many of the daily activities and routines that one might find solace in during a time of isolation and self-reflection, while bravely offering a peek into that solitude.
"I thought a lot about my self-worth during this period of uncertainty," says Ballentine. "'Places/Plans' attempts to communicate the beauty and vulnerability of being alone and what it means to let someone else in to see that. It feels like the thematic core of the EP. It is a song for being alone in your room, lying on the floor with a book and the window open, but also for letting someone in to lie with you."
As Skullcrusher, Ballentine is decisive and immediate with the way she uses a sparse arrangement, fitting minimal sounds together in a way that creates a fuller space. "Skullcrusher" EP's understated energy radiates with the atmosphere of waking up to the quiet terror of shapeless, structureless days, but it finds power in eschewing the pressures of careerism and a vapid culture of productivity. Instead, as Skullcrusher, Ballentine has the audacity to be comfortable enough with herself, and to simply accept the unknown as her life.
Additionally, Skullcrusher will take over Secretly Canadian's Instagram for a livestream performance this Thursday, April 23rd at 12pm PT / 3pm ET.
"SKULLCRUSHER" EP TRACKLIST
1. Places/Plans
2. Trace
3. Two Weeks in December
4. Day of Show
© Playground Music