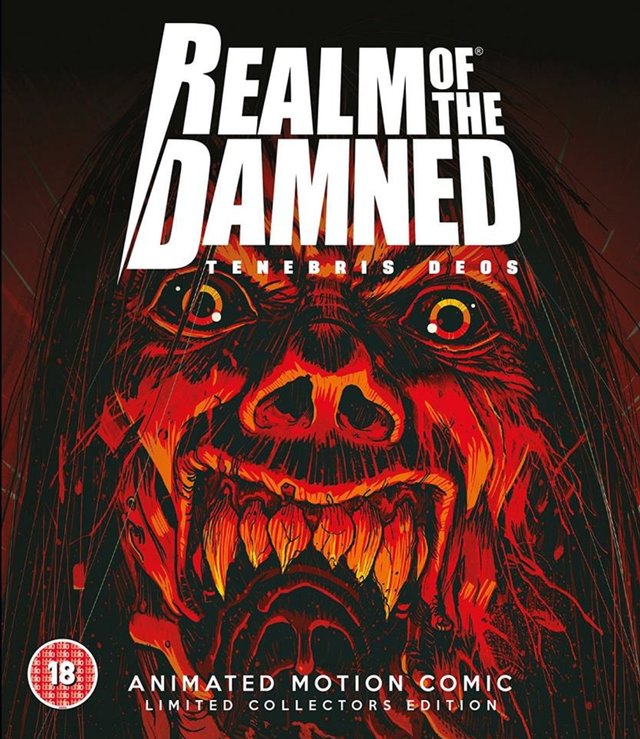 Klicka på bilden, för att se hela bilden
There's no one left to protect us from what lurks in the dark.
No one is coming to save us.
The monsters have won. Our world now belongs to them. Realm of the Damned: Tenebris Deos is a new UK animated motion comic of pure Black Metal horror that unleashes the classic gothic monsters on a modern rampage of redemption and damnation. Raw, fast-paced and bristling with atmosphere, this is a bloody and blasphemous epic that leaves no church unburned.
The Vatican's last line of paranormal defence – The Congregation – has been overrun by the supernatural forces of darkness. Our heroes are dead; only the damned remain. Among them is Alberic Van Helsing – addict, murderer, survivor – and the creatures that were his prey now hunt him across America. But when an apocalyptic evil is resurrected in the forests of Norway, it falls to Van Helsing to become the hunter once again if any are to see the dawn.
Van Helsing's quest for salvation and survival takes him through the ruins of a neo-gothic Europe, where he must face the vampire queen of the Vatican, a man-made monster with the heart of a storm, the lycanthropic lord of the forest, the mummified ruler of the slums of Cairo, and the crazed vampire demigod who threatens to devour them all…
Marking the first in an upcoming four-part series, Realm of the Dead – Tenebris Deosis an animated motion comic adventure starring David Vincent (Morbid Angel), Dani Filth (Cradle of Filth) Jill Janus (Huntress) and Steve Beatty (October File).
Directed by Tom Paton based on the Graphic Novel with Original Story by Alec Worley. Animation by Craig Hinde & Reece Saunders. Produced by Tom Lind & Steve Beatty and Executive Produced by Jerermy Davis. Soundtrack by Sons of Balour & Max Weiry.
www.realmofthedamned.co.uk
www.facebook.com/realmofthedamned
www.3-wolves.net
www.facebook.com/werewolf
Realm of the Damned tech info:
Region: 0
Running time: 56mins approx.
Aspect ratio: 1:85:1
Audio: 5.1
Extras: Collector's booklet and character cards
Also available: the original Graphic Novel: 'Realm of the Damned – Tenebris Deos' and accompanying Son's Of Balaur album 'Tenebris Deos'.​
A 3 Wolves Production – Starring – David Vincent, Dani Filth and Jill Janus – Directed By Tom Paton
Animation by Craig Hinde & Reece Saunders – Produced by Tom Lind & Steve Beatty
Executive Producer – Jeremy Davis
Soundtrack by Sons Of Balaur & Max Weiry
Original story written by Alec Worley – Art – Pye Parr – Creative CEO – Steve Beatty
Additional colours by
Steven Denton and Luke Preece
Copyright 2016 Werewolf Press Ltd
Realm Of The Damned ® is a Registered Trademark
All names, characters, places and events featured in this film are fictitious. Any resemblance to real persons, living, dead or undead, is purely coincidental.
© Werewolf Press Ltd