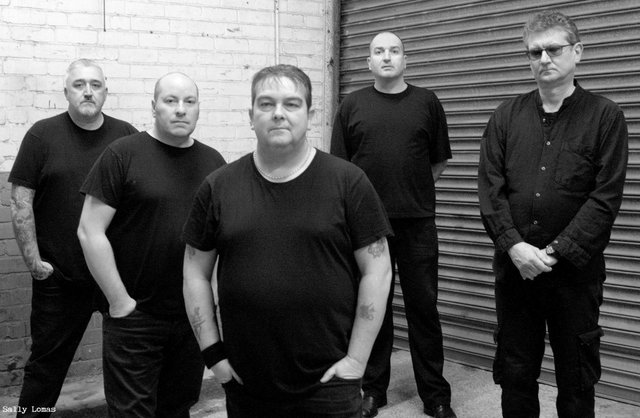 Klicka på bilden, för att se hela bilden
SYSTEM OF HATE are premiering a brand new video for the track "Killing Fields" from their new album 'Unhallowed Ground' album with was released on Ret Records on late last year.
Biography: System of Hate (Dark Punk Rock)
"Straight out of Barnsley comes a Punk Rock tsunami of noise with extremely dark lyrics portraying the darker side of punk with intensity and a deep sincerity. The heart of South Yorkshire is bared to you all. Watch it bleed." – Jonny Wah Wah, Rebellion Festival Programme 2013.
From the bowels of Barnsley comes an unearthly sound that is getting people pretty excited up and down this green and pleasant land. System of Hate have quickly racked up an impressive haul of support slots and gained many new admirers with their brand of intense, aphotic power punk.
They made their fourth consecutive appearance at Rebellion in Summer 2016.
System of Hate sprang from Barnsley punk band Total Confusion in late 2012, making their live debut in early 2013. From there, regular gigs, including support to Sham 69, Goldblade and Vice Squad, culminated with a very well-received appearance on the new band stage at Rebellion in 2013 and another batch of new admirers.
The band was initially Dave Sutcliffe (vocals), Shaun 'Paddy' O'Neill (bass), Patrick Crawford (guitar) and Carl Gulliford (drums). However, in a quest to expand the sound, Martin Roberts joined to play keyboards and trigger samples in later 2013.
The first recording was the Immortal EP produced in Barnsley at Nafrosounds in March 2012. It included: Am I Evil?, Dark Winged Immortal, Parasites In Paradise and Sins of Father.
Released in March 2014, the second recording was the Insanity EP produced in Rotherham at Orion Studios with Steve Ellis.
In September 2014, The Industrial Remixes of the Insanity EP by Lyndon Scarfe (The Danse Society/ Black Lamps) was released, adding yet another dimension to the sound.
The band have appeared with their heroes such as UK Subs and Angelic Upstarts, as well as becoming involved in an album for Teenage Cancer Trust with the Specialised Project and also the We Shall Overcome national event.
John Robb (journalist, author and boss of Louder Than War, and singer with Goldblade and The Membranes) said of System of Hate: "It's a great powerful Punk Rock take on the Killing Joke kind of thing. They've got the intensity, the feral power, the tribal drumming. Really great live, a fantastically intense show live and they are good players as well, a good tight band. Also, the songs show a little bit of imagination."
The debut full-length album – Unhallowed Ground – was recorded at Axis Studios in Doncaster between June and October 2015 by the brilliant Matt Elliss. Featuring the ten original tracks: Rogue Apostle, Kiss the World (1916), Crucified, Antichrist, Sanatoria, Zealot's Path, Mutilation, Apostle of Pain, Killing Fields and Unhallowed Ground.
The album was released on Saturday the 27th February 2016.
System of Hate have shared a stage with: Vice Squad, Goldblade, Sham 69, Lupine, Peter & The Test-Tube Babies, Angelic Upstarts, UK Subs, Discharge, 999, Lurkers, Dirtbox Disco, XSLF, Spunk Volcano & The Eruptions, The Vibrators, Membranes, Evil Blizzard and played Rebellion 2013 (Cock Sparrer, The Damned, Exploited), 2014 Rebellion (NOFX, Killing Joke, Stiff Little Fingers), 2015 Rebellion (The Damned, Boomtown Rats, Less Than Jake).
Thanks to trips down south to London, up north to Gateshead, and many places in between, System of Hate have attracted a very loyal fan base. With performances at the last four Rebellion Festivals, the band has picked up fans from all over the world, with offers to play in Europe and USA.
Further information:
Hemsida
Twitter
Facebook
© Palmer Turner Overdrive