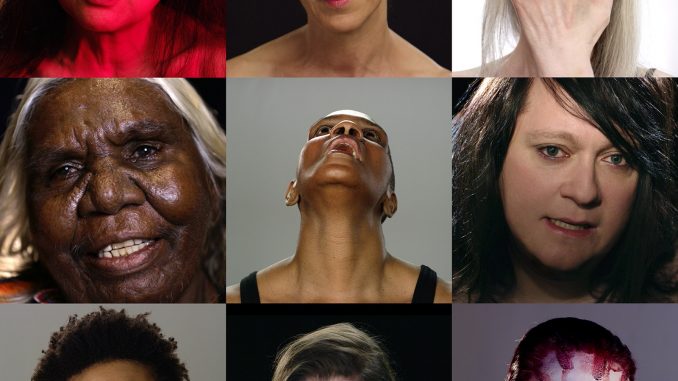 Klicka på bilden, för att se hela bilden
ANOHNI will release "PARADISE," the companion EP to last year's 'HOPELESSNESS', one of the most critically acclaimed and discussed albums of 2016, on March 17th via Rough Trade Records. In collaboration with Oneohtrix Point Never and Hudson Mohawke, on "PARADISE," ANOHNI seeks to support activist conversations and disrupt assumptions about popular music through the collision of electronic sound and highly politicized lyrics.
"PARADISE," includes new songs as well as material recently debuted live. On the title track, "PARADISE" ANOHNI voices ecstatic alienation, describing a dystopian life filled with horror, awe, comfort and threat. She expresses a sense of disembodiment: "Myself, I'm here… not here, as a point of consciousness." The music is wild and invigorating with a heavy beat conceived by Hudson Mohawke and twisting vocal treatments by Daniel Lopatin.
On "JESUS WILL KILL YOU", ANOHNI expresses feral rage as she confronts businessmen, land destroyers, water corrupters, oil extractors, human slavers, and inevitably, Jesus worshippers. She curses Christian corporates with the knowledge that one day their God will punish them for their crimes against humanity and nature, destroying their comfortable, insular lives. "Why you hurt me?Why you make me so sick? Seek to destroy our homes? You're a mean old man. Your wealth is predicated upon the poverty of others. What's your legacy? Burning oceans, burning populations, our burning lungs."
ANOHNI expresses a mother's rage and heartbreak on "YOU ARE MY ENEMY". She experiences alternating waves of suicidal despair and rage at her complicity. "I never felt a part of this world. I reject the way that we live, You poured from my body, On a river of blood, You crawled out and into the light, I gave birth to my own enemy." A melancholic ballad, the song is punctuated with jarring assaults of drums and climaxes in a wailing, inhuman choral declaration.
On the jubilant "RICOCHET", ANOHNI rebels against an omnipotent deity, who threatens eternal separation: "If this keeps going, I'm gonna curse you my god, I'm going to hate you, my god".
On the sparse ballad "SHE DOESN'T MOURN HER LOSS", ANOHNI states that the earth doesn't cry over vanishing biodiversity; instead "She just loses"; only humanity will grieve the loss of the biodiverse world that gave rise to us. Anohni returns to the theme of her dependency upon the earth, and her pain at watching familiar earth systems collapse: "She fed me all those years and now she's dry as her tears. But who will remember her, if not her children?"
Nine portraits of women on the EP artwork reflect the feminine oracle that ANOHNI evoked in her live concert tour.
'HOPELESSNESS' was named one of the albums of the year, in the following
Crack Magazine, Loud & Quiet The Guardian, Time Out, Mixmag, Attitude, Uncut, The Skinny
New Statesmen, The Sunday Times, Q, Mojo, Rolling Stone, Pitchfork, NME.
'HOPELESSNESS' was nominated for the last years Mercury Prize.
"PARADISE" EP TRACKLISTING:
1. In My Dreams
2. Paradise
3. Jesus Will Kill You
4. Enemy
5. Ricochet
6. She Doesn't Mourn Her Loss
ANOHNI LIVE:
Sun. April 2- Hamburg, DE @ Elbphilharmonie
Sat. Nov. 18 – Aarhus, DK @ MusikHuset Aarhus w/ Aarhus Symphony Orchestra
ARTIST STATEMENT
Her gentle touch
My Father's Hands
Rest on my Throat
"Our new leaders hope to crush our spirits and expedite ecocide in the name of virulent progress, consumerism and false security.
Like Jihadis, many capitalists and Christians compulsively seek to facilitate a righteous "holy war", or apocalypse.
For millennia, Men have enslaved women and attempted to appropriate female creative power, re-casting themselves as gods and creators.
This assault continues today in the forms of ruthless wealth and mineral extraction, genetic engineering, mass surveillance and war mongering.
But as Donald Trump and his cabinet now demonstrate, the skills encouraged in men by their biologies and the tools that boys master in the playground have not equipped them to deal with the unprecedented global crisis we are now facing.
Mothers, your sons are trapped in a nightmare; they are not capable of responsibly negotiating the destructive agency that they now wield.
More profound even than a crime against humanity, fathers and sons now compulsively prepare to commit ecocide, in a final and irreversible assault upon creation itself.
Only an intervention by women around the world, with their innate knowledge of interdependency, deep listening, empathy and self-sacrifice, could possibly alter our species' desperate course."
– ANOHNI, January 2017
© Playground Music