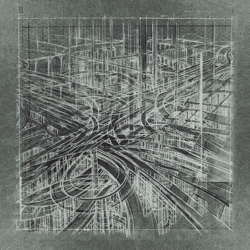 Klicka på bilden, för att se hela bilden
The Bug vs Earth release second single from forthcoming album Concrete Desert, Don't Walk These Streets
"Two of the more cultishly beloved forces in experimental music." – Stereogum
"The Bug's kinetic electronics and Earth's lumbering doom metal have proven a potent combo." – FACT Magazine
"Potentially some of the best work in either artist's catalog." – CLRVYNT
The Bug and Earth have shared "Don't Walk These Streets," a new song from their collaborative album Concrete Desert, due out March 24th on Ninja Tune.
Kevin Martin, aka The Bug, told Decibel the song, "was really written as a reaction to feeling absolutely alienated and set adrift in the surreal manifestation of the American Dream that is L.A. It's a smacked out jazz, fuzzed up trip, into a social void, that i wrote after realizing there is zero safety net in the States for anyone that falls off the gravy train. And as a pedestrian walking a lot around the city, in my stay during the recording of Concrete Desert, i attempted to conjure the feeling of sheer dread that i felt wandering across the Hollyweird landscape."
Earth's Dylan Carlson concurred: "Well, its something Kevin really noticed about LA and I confirmed it for him. You're viewed as crazy if you walk anywhere in LA (more than a block or 2) or use mass transit – even though when I lived in LA 97-00, I did both regularly. In this track, the guitar is definitely the most abstracted from traditional guitar sounds, which I quite like."
Like master painters exploring a subject over a lifetime's work, Kevin Martin and Dylan Carlson – The Bug and Earth, respectively – have each been mining and defining their genres for more than 20 years. They're united by an interest in – really an obsession with – heaviness. They search for, examine and break the boundaries between beautiful and ugly, minimal and maximal, light and dark.
Earth, and its founding member Carlson, first appeared in the early '90s, and came to prominence with their Sub Pop release 'Earth 2'. An exercise in slow distorted droning minimalist riffage, their debut was the blueprint for what Dylan coined at the time "ambient metal," – a style still being pushed forward on his latest Southern Lord release 'Primitive And Deadly.' Kevin Martin's career spans the same timeframe. Techno Animal, Ice, God, Razor X, King Midas Sound, and of course the The Bug moniker. All of which explore(d) the fringes of experimental and heavy music. With his recently released 'Angels & Devils' LP receiving high praise across the board, he once again put his sonic stamp on the here and now.
They first started to record when Martin was recording his 'Angels & Devils' LP in 2014. The tracks "Boa" & "Cold," were released as a standalone EP, with Dylan's signature guitar sound weaving seamlessly around some of Kevin's most destructively heady bass explorations. Martin had decided to exclude those songs from 'Angels & Devils', as he felt "They had developed a singular life of their own, outside of the identity of that album."
Ninja Tune asked The Bug and Dylan Carlson to perform live in LA around the label's 25th anniversary, and Martin and Carlson took the opportunity to further the recording project in person. So The Bug vs Earth project holed up in Daddy Kev's legendary LA studio. Those recording sessions have resulted in "Concrete Desert." Inspired by J.G. Ballard's urban dystopias, and the Californian dream capital's sordid, fragmented underbelly, Martin says that the album is in some ways a Los Angeles-set companion piece to "London Zoo.".
In making it, Martin decided to break from The Bug's study of groove, tone and texture, and think more cinematically. The result is a wondrously visual album. In fact, he says, the album could be understood as reflecting a 'mistrust of "Hollywoodisms," and the shadow of Hollywood fantasy that looms large over life in LA, and the USA in general. "Dylan's a master at amplifying the flavour of America," he says, "but not the side we see in this Trump climate." For Martin, the "American dream is like a nightmare under Trump" but Dylan captures the "best side of that dream, a utopian openess." "I hear the writing of Cormac McCarthy in his music. His playing conjures deserts, and wide open spaces." In "Concrete Desert," Earth's sonic landscapes, its far horizons and vast spaces, are underpinned and propelled by Martin's ear-worming rhythms and percussive genius.
With live shows for The Bug and Dylan Carlson planned for April 2017, this is just the beginning of The Bug vs Earth project. The record might be one designed to 'document alienation,' but one listen is enough to show it, equally, to be a brilliant meeting of two kindred musical souls.
Tour dates:
05/02/17 Sun Berlin CTM Festival
12/04/17 Wed London UK Heaven
13/04/17 Thu Leeds UK Belgrave Music Hall
14/04/17 Fri Manchester UK Fat Out Festival
15/04/17 Sat Copenhagen DK Koncerthuset
16/04/17 Sun Malmo SE Inkonst
20/04/17 Thu Kortrijk BE De Kreun
22/04/17 Sat Tilburg NL Roadburn
© Playground Music