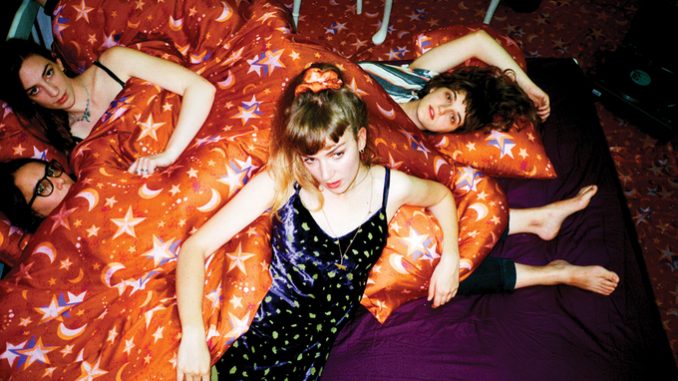 Klicka på bilden, för att se hela bilden
Love In The 4th Dimension will be released on the 7th April 2017 through Fiction Records. It was recorded in London throughout the Summer, and co-produced by Catherine Marks and Juliette Jackson.
The record features re-recorded versions of their previous singles, Sucker and The Road. Their recent singles Cupid and Silent Movie Susie also feature.
To coincide with the album's announcement, The Big Moon are also proud to unleash new single, Formidable. It was premiered as Annie Mac's Hottest Record in The World, and follows the ongoing support for the band at Radio 1.
Formidable divulges another knowing glimpse into a band brimming with confidence. It's delivered with a real sense of righteousness by Juliette, and is arguably the best example yet of what this young band are capable of. Bold, articulate, and with an insatiable ear for melody, Formidable is The Big Moon at their most devastating, lifted from an album full of gold.
Formidable will be released on 13th January 2017 on limited edition 7" vinyl.
Speaking of the album, Juliette Jackson said: "We spent twelve gorgeous summer days in the studio hanging out with the brilliant producer and super babe Catherine Marks, experimenting and noodling and shredding and hitting things until all the right noises happened at once.
"We've been playing these songs for two years now, and it's a dream come true to finally immortalise them on record. It's like having eleven tiny babies all at once, all with their own little faces and voices and personalities, and now we're ready to throw them out of our nest and into your ears."
The album will be released digitally, on CD, and on heavyweight vinyl. Signed copies of the CD, vinyl and limited edition polaroids will be exclusively available to fans through The Big Moon online store.
The Big Moon recently played a momentous sold out show at London's Scala in November, to round off their biggest headline tour to date. The band kick off their US tour alongside The Japanese House throughout the rest of this month.
Love In The 4th Dimension Tracklisting:
Sucker
Pull The Other One
Cupid
Formidable
Bonfire
The Road
Happy New Year
Silent Movie Susie
Love In The 4th Dimension
Zeds
The
© Caroline International