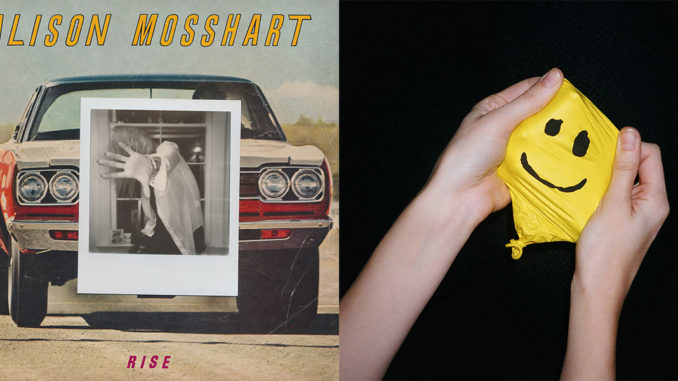 Klicka på bilden, för att se hela bilden
Alison Mosshart releases debut solo single "Rise"
Fierce and fiery, a no-nonsense firestarter, Alison Mosshart is hardly a stranger to taking chances. Best known as one-half of acclaimed duo The Kills, when she's not moonlighting as Baby Ruthless, the gnarly lead singer of blues-punk foursome The Dead Weather, Mosshart is a forever moving force. Over the years she's collaborated with everyone from her Dead Weather bandmate Jack White to Arctic Monkeys, Primal Scream, Gang Of Four, Cage The Elephant, Foo Fighters, James Williamson and Mini Mansions. But her new and boldest move yet finds her embracing her solo bonafides.
Today, she releases the first solo single of her already impressive career. "Rise" is a searing, slow-burner recorded for, and prominently featured in, today's final episode of FacebookWatch drama Sacred Lies. The track is available now on Domino Records. Sacred Lies: The Singing Bones is produced by Blumhouse Television and Raelle Tucker (True Blood, The Returned, Jessica Jones), starring Juliette Lewis, Ryan Kwanten, Jordan Alexander, and Kristin Bauer van Straten. "Rise" is a throughline in the story, and is performed by Jordan Alexander ("Elsie") in Episode One.
Mosshart is currently hunkered down at her Nashville home and has used this period of social isolation to teach herself video editing, pulling together some of her favorite footage from a recent visit to Los Angeles and editing it into a video for the song.
Faye Webster Shares New Standalone Single/Video, "In a Good Way"
Atlanta-based musician Faye Webster shares a new standalone single/video, "In a Good Way." The track follows 2019's acclaimed Atlanta Millionaires Club, which appeared on many year-end lists such as Pitchfork, Stereogum, Vice, Consequence of Sound and more. "In a Good Way" leans into a universe of willowy R&B. Guitar flourishes and the swell of a string quartet float above a sparse rhythm section, evolving into a deep-grooving jam. Its video was directed by Faye and Hunter Airheart, who she previously collaborated with for the"Kingston" and "Room Temperature" videos.
Faye's effortless songwriting and near-whisper delivery highlight the extraordinary detail and beauty in her arrangements. After writing at her home, she and her band head to her favorite Athens studio and lay down the track live, recording with minimal overdubs. For Faye, it's imperative to capture the song in a studio while still fresh; an exercise in preserving a vibe. This is why Faye's recordings have an ephemeral quality, a fleeting moment captured in the studio.
Praise for Atlanta Millionaires Club:
"It has the melancholy clarity of someone twice her age, and a dreamy transience perfect for an overcast Sunday." – Pitchfork
"Webster breaks musical barriers in such a way that musicians rarely do these days." – Rolling Stone
"Maybe it's her breathy lilt. Maybe it's the moderation of slide guitar. Whatever the trick is, Webster knows it makes her songs irresistibly coquettish." – Stereogum
"Ultimately, Webster's honesty is what makes her music so singular–she recognizes the importance of the thoughts that usually remain unspoken." – Bandcamp
"a masterpiece of claustrophobic intimacy that brings compelling immediacy to a time-tested story." – Consequence of Sound
© Playground Music