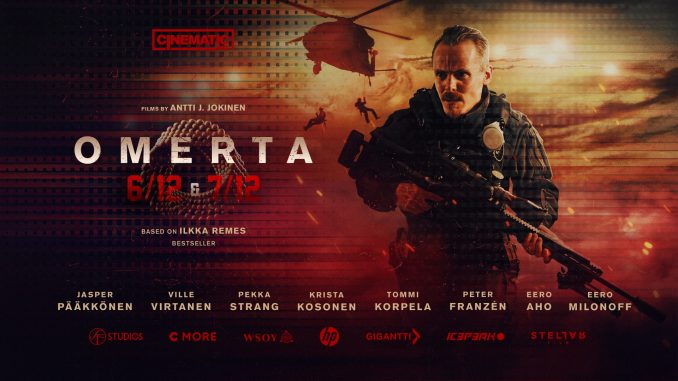 Klicka på bilden, för att se hela bilden
Omerta based on bestselling novel 6/12 by author Ilkka Remes and directed by acclaimed director Antti J. Jokinen
The Finnish production company Cinematic announced today that it will produce a new action thriller series Omerta starting with two feature films Omerta 6/12 and Omerta 7/12, and a TV series for C More based on the bestselling novel 6/12 by the Finnish author Ilkka Remes. The films and TV series will be directed by internationally acclaimed Antti J. Jokinen (The Resident, Flowers of Evil, Purge) with the renowned Finnish actor Jasper Pääkkönen (BlacKkKlansman, Vikings) in the leading role. The first two films in the Omerta series – 6/12 and 7/12 – will be released in the fall of 2021 and 2022 respectively. SF Studios will handle Nordic distribution and international sales.
The story is about a secret unit called "Omerta", the top European special forces. It begins as a hostage thriller, where a Serbian terrorist group executes a coordinated attack on the presidential reception ball on the Finnish Independence Day – December 6th. The events in the two films will take place in Helsinki, Moscow, Brussels and Minsk. Both films will be shot in Finland and abroad and several languages will be spoken (i.a. Finnish, English, Swedish and Serbian).
The Omerta films and TV series are based on the bestselling novel 6/12 written by Finnish author Ilkka Remes. His fast-paced, high concept thrillers have been very successful in Finland and internationally. He has sold more books in the 21st century than anyone else in Finland with over 3 million copies sold in a country of 5,5 million people.
"I am very happy that 6/12 will take shape on the big screens, especially since the story itself came to being in a special way. That fall, I had spent all my time writing another book, when just before the Finnish Independence Day, the idea of a hostage thriller during the presidential reception suddenly came to me. In a heartbeat, I started sketching the storyline and couldn't stop until it was complete. Maybe 6/12 is my most widely read book because of its beginning, already being so highly energetic. I hope that my story creates a solid ground for the films to be", says Ilkka Remes, author of 6/12.
The main character in Omerta 6/12 and Omerta 7/12 is Max Tanner, an Omerta agent operating from the Finnish special forces department. He will be played by Jasper Pääkkönen, most recently known for his roles in the Academy Award winning film BlacKkKlansman and the acclaimed HBO series Vikings. Other significant roles will be held by Finnish actors Ville Virtanen, Pekka Strang, Krista Kosonen, Peter Franzén, Eero Aho, Tommi Korpela and Eero Milonoff. All international cast, including a Swedish female lead, will be announced during Berlinale in February 2020.
The scriptwriters behind both films are Antti J. Jokinen and Mika Karttunen. The production company Cinematic, also founded by director Antti J. Jokinen, is the powerhouse behind the Omerta film series. The films will be produced by Mikko Tenhunen (The Unknown Soldier), Antti J. Jokinen and Evelin Penttilä (Helene). Executive producers are Mikko Kodisoja, Thomas Fanning and Sara Norberg from Cinematic and Yaba Holst from SF Studios. This large-scale international production brings new energy into the Finnish film industry. Cinematic will use cutting edge technology and real-time game engines to create top class visual effects for the first time in Finland. Both films and TV series will be shot during autumn-winter 2020.
"I am in a great position, having the opportunity to work with the most valued actors in Finland. Being entrusted with this project is a great honor for me. Having recently directed emotional dramas, it's thrilling to move to directing features based on the renowned Ilkka Remes' bestsellers and entertain wide audiences. As a filmmaker, it's a real pleasure to move from one genre to another", says Antti J. Jokinen, director, scriptwriter and producer, Cinematic. "Cinematic is investing in developing the technology of tomorrow. We intend to be frontrunners in using the newest virtual world technologies to give our films a notable competitive advantage," Antti J. Jokinen continues.
SF Studios will distribute the films in the Nordics and sell the two films (2 x 90 minutes) and
TV series of six episodes (6 x 42 minutes) worldwide.
"It's with great pride and joy we embark this powerful journey together with top notch creatives. The scale and ambition of this story is unique in the Nordics and strongly reflects SF Studios' ambition to be a leading local distributor and executive producer of films that will hit # 1 box office in the coming decade", says Yaba Holst, Executive Producer and Head of Nordic Acquisition, SF Studios.
"We are thrilled to bring the Omerta journey to the world. The talent and contemporary production approach behind the two features and series give us enormous confidence in their international appeal", says Anita Simovic, Head of International Sales at SF Studios.
© SF Studios