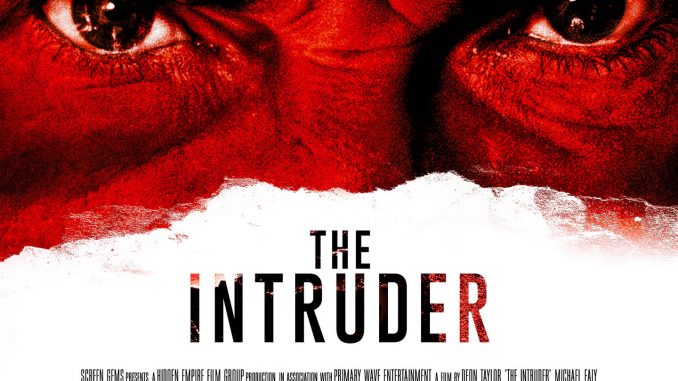 THE INTRUDER
Dennis Quaid - psycho från helvetet, USA 2018
Regi: Deon Taylor
I rollerna: Michael Ealy, Meagan Good, Dennis Quaid, Joseph Sikora, Alvina August
DVD/Blu-Ray/VOD
(Sony Pictures Entertainment)

BETYG: TVÅ
Psycho-från-helvetet terroriserar hjälte/hjältinna med partner – alternativt en helylle kärnfamilj med kanin – yep, det där sålde som smör på 1990-talet.
Fatal Attraction, Single White Female, Pacific Heights … Men plötsligt dog genren lika snabbt som psykopaterna när två timmars speltid var över…
Att inte lämna det gulliga paret ifred
På 2000-talet kom Obsessed, No Good Deed, The Perfect Guy, When the Bough Breaks … och genren var tillbaka, fast denna gång var inte alla vita amerikaner i huvudrollerna.
Det är denna genre som The Intruder tillhör. Gulligt par med gulliga namn, Scott och Annie, köper ett stort, fint hus på landet för att få lugn och ro … men de blir snart varse att Charlie, mannen de köpt det från inte tänker lämna det. Eller dem, ifred …
Rolig Quaid i kontakt med sin inre The Shining-Nicholson
Filmen följer formulan från 90-talets föregångare och slutet är praktiskt taget exakt detsamma som i Julia Roberts rullen Sleeping with the Enemy. Fördelen som denna film har stavas Dennis Quaid. Han är verkligen rolig som den bindgalne Charlie! Det ser också ut som om Quaid verkligen försöker komma i kontakt med sin inre Jack Nicholson från The Shining!
Ett gulligt par man inte gillar
Filmen är mer rolig än hemsk. Ofta ofrivilligt rolig, men man misstänker också att Dennis Quaid är rolig på flit. Man kan inte göra annat med en sådant här manus. Det gulliga paret, som man ska gilla, gillar man inte alls. Hon är naiv. Han är en sådan där modern "metro-male". De har inga personligheter alls. Man bryr sig inte om dem. De är lite som dalmatiner 56 och 57 … man minns dem inte alls, man minns bara Cruella De Ville …
Psychofilmen lever utan Glenn Close
Slutet är också helt knäppt och ingen agerar i enlighet med de regler och personlighetsdrag som förklarats under hela resten av filmen … Men man har i alla fall fått ha roligt med (och åt) Dennis Quaid. Så visst lever psycho-filmen fortfarande. Även om Glenn Close – den bästa Cruella De Ville gått vidare till nya storslagna roller.
Skriven 2019-11-03