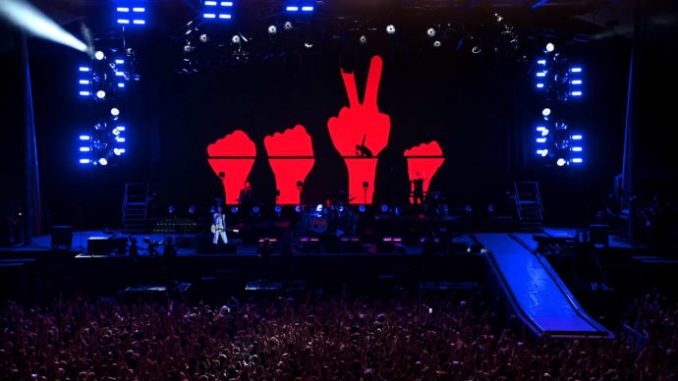 Den universella kraften i musik tillsammans med emotionella historier, blandat med framträdanden från bandets rekordturné 2017/2018 – Global Spirit Tour – det är ingredienserna i dokumentären som går upp på biografer över hela världen under en enda kväll i höst, den 21 november.
Depeche Mode inledde sin Global Spirit-turné under sommaren 2017 och kom att uppträda för mer än 3 miljoner fans under hela 115 konserter världen över. Denna vackert illustrerade dokumentär, "Depeche Mode: SPIRITS in the Forest", är regisserad av prisbelönte filmskaparen och kreatören Anton Corbijn som också samarbetat med bandet under många år. Filmen fångar energin och det performativa uttrycket i bandets framträdande från turnén tillsammans med en djupare inblick i hur deras musik och framträdanden påverkar deras fans liv.
Genom de djupt emotionella berättelserna om sex speciella Depeche Mode-fans visar filmen inte bara hur och varför bandets popularitet och relevans har fortsatt att växa under bandets karriär, utan den ger även en unik inblick i musikens otroliga kraft att bygga samhällen, möjliggöra för människor att övervinna motgångar och skapa samhörigheter över gränser oavsett språk, plats, kön, ålder och omständigheter.
Depeche Mode: SPIRITS in the Forest är filmad och klippt med en konstnärlig höjd, den väver samman spännande musikaliska delar från bl.a. den sista konserten av Global Spirit-turnén i Berlins berömda Waldbühne och en intim dokumentärdel filmad i fansens hemstäder över hela världen.
Medverkande: David Gahan, Martin L. Gore och Andrew Fletcher mfl.
Depeche Mode: SPIRITS in the Forest visas på biografer över hela världen under endast en enda kväll, den 21 november. Biljetter finns ute nu via spiritsintheforest.com och hos respektive lokal biograf.
© Live Nation 2019-09-26