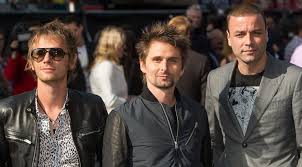 De Grammy Award-vindende rockikoner MUSE kommer til København til september!
MUSE SIMULATION THEORY WORLD TOUR I ROYAL ARENA 8. SEPTEMBER.
MUSE TILFØJER YDERLIGERE KONCERTER I NORGE, DANMARK, TYSKLAND OG HOLLAND SOM EN DEL AF SIMULATION THEORY WORLD TOUREN. TOUREN KOMMER I FORLÆNGELSE AF DET NYLIGT UDGIVEDE ALBUM SIMULATION THEORY
MUSE har annonceret yderligere datoer til deres Simulation Theory World Tour:
7. september, Telenor Arena, Oslo
8. september, Royal Arena, Copenhagen
10. september, Mercedes-Benz Arena, Berlin
12. september, Ziggo Dome, Amsterdam
Turnéen begyndte 22. februar i Houston, Texas, og de multiplatinsælgende, Grammy Award-vindende rockikoner kommer til U.S.A., Canada, UK og Europa.
Muse er blevet hyldet verden over for deres energiske og banebrydende live shows. Denne tour er ingen undtagelse, og den fik fantastiske anmeldelser da den begyndte i Nordamerika i sidste måned:
"One of the most sleek, visually arresting shows on the arena circuit" – Atlanta Journal Constitution
"The most innovative arena stagings of the last decade." – Montreal Gazette
"A visual and musical feast…yet again pushing their stage production to greater heights" – Houston Press
"Grandiose, majestic, swelling and sweeping" – Dallas Morning News
"Pure rock and roll spectacle" – San Jose Mercury News
Enhanced Experience
På The Simulation Theory World Tour vil det blive muligt at købe en "Enhanced Experience Package", som giver adgang til et eksklusivt Mixed Reality Pre-Show Party, powered by Microsoft, med tre originale virtual reality spil, inspireret af sange fra Simulation Theory. Yderligere indeholder Enhanced Experience en koncertbillet, show-specifik plakat, interaktiv foto experience med rekvisitter og memorablia fra bandets seneste videoer med mere. Muse Enhanced Experience og Premium Ticket Bundle detaljer kan ses her: www.cidentertainment.com/events/muse-tour/
Muse er Matt Bellamy, Dominic Howard og Chris Wolstenholme. Deres album Simulation Theory blev udgivet 9. november og udover at debutere som #1 i UK, Belgien, Holland og Schweiz gik den også top 5 i 15 lande og top 10 i yderligere 18 lande verden over. Siden dannelsen i 1994, har Muse udgivet otte studiealbums og har solgt mere end 22 millioner på verdensplan.
Bandet er bredt anerkendt som værende et af verdens bedste live-bands, og har vundet adskillige musikpriser, herunder to Grammy Awards, fem MTV Europe Music Awards, to Brit Awards, ti NME Awards og syv Q Awards med flere.
Billetpriser: PL1 sidde 750,- / PL2 sidde 610,- / PL2U stå 610,- PL3 sidde 470,- / PL4 sidde 370
kr. + gebyr.
Det officielle billetsalg starter fredag 12. april kl. 10.00 via livenation.dk og ticketmaster.dk
D2C presale: Tirsdag 9. april kl. 10:00 (slut torsdag kl. 10.00)
Jyske Bank presale: Onsdag 10. april kl. 10.00 (47 timer) / jyskebank.dk/musikken
Live Nation Danmark nyhedsbrevsmodtagere presale: Torsdag 11. april kl 10.00 (23 timer)
© Live Nation Danmark 2019-04-05