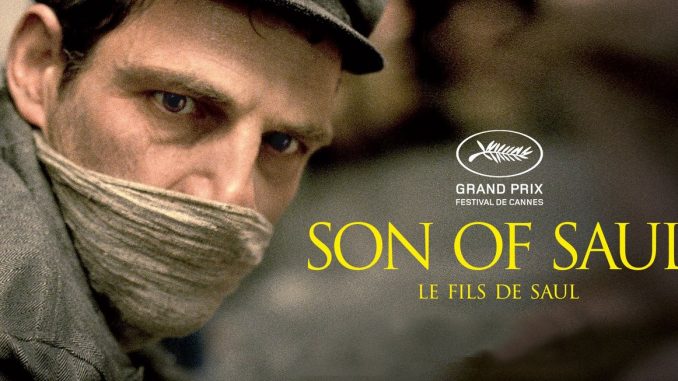 Förintelsens minnesdag 27 januari 2019 börjar närma sig och det är självklart att man anordnar debatter, öppnar nya utställningar, sänder radioprogram et cetera för att uppmärksamma oss på och påminna oss om mänsklighetens sämsta sida. Den 24 januari bidrog även SVT2 till detta minne. Då visades filmhistoriens kanske mest konstnärliga och mest ohyggliga film om denna händelse. Dessvärre började filmen sändas först klockan 22 och dagen därpå var vanlig arbetsdag, men några av dem som valde att lägga sig i tid skulle ändå hålla sig vakna om SVT2 hade vett att informera sin potentiella publik vad för slags film det rörde sig om.
Filmen heter Saul fia på originalspråket ungerska och Sauls son på svenska. Det är sällan en film är så prisad som denna. Några exempel:
Oscar för Best Foreign Language Film of the Year;
Golden Globe: Best Motion Picture – Foreign Language;
Bafta Film Award: Best Film not in the English Language;
Broadcast Film Critics Association Awards: Best Foreign Language Film;
Cannes Film Festival: vinnare i kategorier FIPRESCI Prize och Grand Prize of the Jury;
London Critics Circle Film Awards: Director of the Year (László Nemes);
Grand Prix de l'UCC: och så vidare…
Sammanlagt erövrade filmen 61 vinster och var nominerad till ytterligare 56.
På Stockholm filmfestival tilldelades regissören László Nemes priset som bästa regi med motiveringen "The award goes to a film that makes us hold our breath and instead become part of the film's own pulse. With furious pacing, constant motion, a consistently subjective point-of-view and with long, meticulous and masterly executed sequences, the director takes a whole new perspective on a subject that has been depicted countless times, but never with this intensity – and never this good." Synd att SVT2 inte orkade eller inte hade lust att berätta detta för sin (potentiella) publik.
Klicka här för köp av och information om artikelförfattaren Vladimir Oravskys böcker.
Skriven 2019-01-25