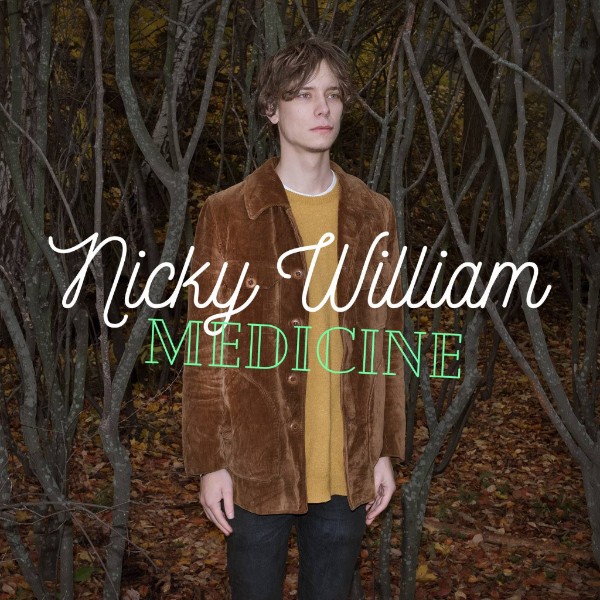 Klicka på bilden, för att se hela bilden
I've made statements of which I'm sure are full of shit, I've dragged a dirty corpse just to get rid of it , I've laughed at jokes that aren't even funny, I've made dumb people think they're cunning
– Nicky William –
"Nicky William sounds like the love child of Adam Green and Leonard Cohen
and got a voice you won't forget easy" // Hymn
A special voice, somehow between Matt Berninger and Johnny Cash.
With his latest single 'Hurricane' he proves this thesis impressively." // We love that
"William's deep voice calls to mind Bill Callahan while his catchy indie rock
instantly hooks listeners." //YabYum Music & Arts
"And the voice, the voice" //Gobsmag
I N T R O D U C I N G
Medicine, the new single by Nicky William
Taken from the debut album "Set your loved ones free, we have you surrounded"
out now on Hi-hat Music
"I am so ambivalent be my medicine can we trust the government who are we against
are you my only friend my only friend my only friend"
"Medicine" is the new single from Nicky William, taken from his critically acclaimed debut album "Set your loved ones free, we have you surrounded" co-written and produced by Swedish indie legend Andreas Mattsson.
Nicky William has had great response from national Swedish radio P3 and a rising streaming trend on Spotify. He just did a successful show on Swedish showcase festival "Where's The Music" and is set for two shows on By:Larm in Oslo in early March. Make sure to catch him live, he's an amazing live artist!
N I C K Y W I L L I A M
Nicky William was born Jan Nicky William Åslund on November 2, 1995 in Oxelösund, Sweden. From a mix of small town syndrome and archipelago idylls, among the Oxelösund quarter, the distinctive singer / songwriter flourished. Music was the main course already from a young age. During his teenage years he created a characteristic interaction between his trembling low-key voice, simple and effective guitar playing and lyrics delivered with the mark old soul.
Born in a very musical household, Nicky's parents were always excited to introduce Nicky to any artist he had not heard or tell an anecdot that would amplify the incredible mythology of the women and men who seemed greater than life itself, these musicians and the art form they practiced quickly became an obsession for Nicky and something he held in great respect. Nicky grew up to hear all sorts of different artists from different genres, Nicky would find influences in a variety of artists such as Joni Mitchell, Bob Dylan, Leonard Cohen, Patti Smith, Nick Cave and the bad seeds, but also in more contemporary music like Radiohead, St. Vincent, Andrew Bird, Fiona Apple, Wilco.
Nicky began his journey in music in a rather unconventional way, driven by what Nicky would describe as fear and plain naiveness. In 2014, he released a single "Wake up", later it would appear that the song was not his and that this was a case of plagiarism. The story of how it happened is how he describes "long and not really important, in the end, I did what I did and I had many opportunities to come out and tell the truth but I did not."
With the support of family and friends Nicky was encouraged to continue making music and with the help of a close family friend who helped produce/Co-write an EP containing four songs that took on a more mainstream sound, the EP found its way to quite a few listeners who prefer the pop-production of the songs.
Nicky has since found a great label to call home and a producer in Andreas Mattsson that really bring forward Nicky's best. The album "Set your loved ones free, we have you surrounded" is out now on Hi-hat Music.
D I S C O V E R
© Hi-hat Music