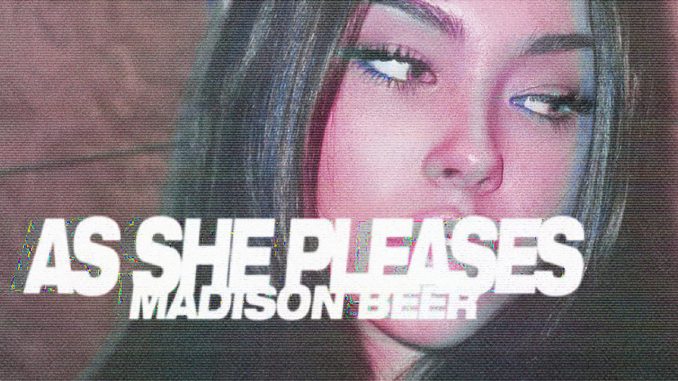 Klicka på bilden, för att se hela bilden
Rising indie pop singer, Madison Beer releases her debut EP, As She Pleases today, as tickets for the UK and European leg of her upcoming headline tour go on sale.
As She Pleases follows the release of featured single 'Dead' (which has notched up over 60 million streams to date) and the Fred Ball (Rihanna, Little Mix, Madonna) produced track 'Say It To My Face'. The seven track EP, co-written by Madison, serves as an embodiment of the teenage experience: from the Monsters & Strangerz (Selena Gomez, Kanye West) produced Teenager in Love and the Tim "One Love" Summers produced Fool, through to the bopping, Big Taste produced Home With You, and the Fight Club inspired, stripped down ballad, Tyler Durden.
"As She Pleases could mean a lot of different things.", says Madison. "To me it's about strength, empowerment, and attitude. It's about trusting in yourself, knowing your worth, and above all else never allowing anyone or anything to break your spirit. Happiness, self love and self empowerment. This is your life. Do as you please… I sure do. This is from my heart, soul, and mind, each song representing a different piece of me."
The European leg of Madison Beer's upcoming headline tour will kick off on Milan, Italy on 11th March, and travel through Germany, (Berlin, Frankfurt, Hamburg), Belgium (Brussells), France (Paris), and the UK (Manchester, Glasgow, Birmingham, Nottingham, Belfast) before wrapping up in Dublin, Ireland on 31st March. It will be Madison's first live dates in Europe since a string of back to back London shows last summer which sold out within minutes of going on sale. Tickets are available to purchase now from http://listings.ticketmaster.co.uk/madisonbeer
Born and raised in the sedate New York suburb, Jericho, 18-year-old Madison Beer is a multi -talented musician who grew uplistening to 1950s artists (such as Dion and the Belmonts and Santo & Johnny), and idolizing smart, strong artists like Rihanna, Amy Winehouse and SIA for their attitudes as well as for their music. Madison's first break came thick and fast, when Justin Bieber discovered and shared on twitter her cover version of Etta James' 'At Last' which she'd uploaded to YouTube. Within hours she had a Good Morning America film crew outside her door.
Fast forward five years, and Madison Beer has spent her time honing her musical craft; maintaining and developing her close relationship with her fans (2.5 million+ on twitter, and an eye-popping 10 million+ on Instagram); and dipping her toe in the fashion world – she's walked the catwalk for D&G, graced the covers of numerous fashion magazines (including Vogue Italia), performed alongside of Liam Gallagher at Vogue's Fashion Night Out during Milan fashion week, and most recently joined Adriana Lima in Berlin for Maybelline's 'Urban Catwalk – Faces of New York'.
Madison is a priority artist for First Access Entertainment (founded by Sarah Stennett and home to Ellie Goulding, Zane and Rita Ora to name but a few), who share her independently driven trailblazing spirit.
© Deerlily Music