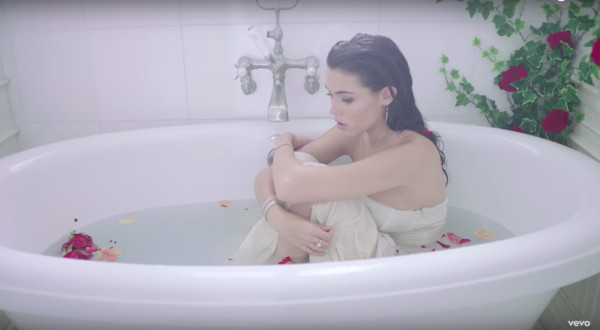 Klicka på bilden, för att se hela bilden
Rising indie pop singer Madison Beer shares the music video for her sassy break-up anthem-in-the making, Dead.
Directed by Darren Craig (Rihanna, Kanye, Justin Timberlake), the video for Dead was shot in Los Angeles and highlights the song's narrative of Madison dressing down a game playing-ex in no uncertain terms. It features a cameo appearance from internationally renowned model, Presley Gerber.
"I loved making this video!" says Madison. "The song means so much to me and it's really exciting to get to bring my vision for it to life. Presley is a great friend of mine and it was a blast getting to work together – he was a good sport about that last scene."
Described by Billboard as "sure to strike a chord with just about anyone who hears it", Dead is a single whose melodic flair and sophisticated understatement cement this young artist's conviction-packed evolution as an ambitious, left-leaning alternative pop force. As infectious as it is relatable, Dead has already garnered an impressive 18 million plays across streaming services, alongside over 3.5 million views on YouTube for the lyric video.
The release of the video for Dead follows on from Madison playing three back to back London headline shows (which sold out within minutes of going on sale), and her Wonderland magazine cover, which saw her collaborate with Moschino's Jeremy Scott, hitting shelves worldwide.
Born and raised in the sedate New York suburb, Jercho, 18-year-old Madison Beer is a multi -talented musician who grew up idolizing smart, strong artists like Rihanna, Amy Winehouse and SIA for their attitudes as well as for their music. Madison's first break came thick and fast, when a certain Justin Bieber discovered and shared on twitter her cover version of Etta James' 'At Last' which she'd uploaded to YouTube. Within hours she had a Good Morning America film crew outside her door.
Fast forward five years, and Madison Beer has spent her time honing her musical craft; dipping her toe in the fashion world (she's graced the cover of Vogue Italia and walked the catwalk for D&G); and maintaining and developing her close relationship with her fans (2million on twitter, and an eye-popping 9.4 million on Instagram).
Madison is a priority artist for First Access Entertainment (founded by Sarah Stennett), who share her independently driven trailblazing spirit. Madison's forthcoming EP will be released later this year.
Madison Beer's Dead is available now across all platforms
© Deerlily Music