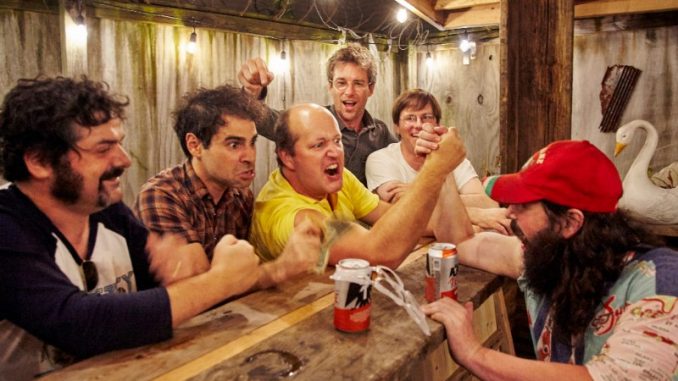 Klicka på bilden, för att se hela bilden
"Minimalism with its finger in a socket…a pure jolt of arty New York intransigence." – The New York Times
"Brooklyn's finest art-rock band…their muscular, maximal minimalism can provoke awe, hypnosis, or profound irritation." – The Village Voice
"Through a dozen albums, they've covered a daunting amount of territory, darting between rock, noise, psych, drone, electronics and minimalism….there's no 'basic' Oneida sound, and if so that's part of what's made them such an interesting and unpredictable band." – Pitchfork
"Listening to "All in Due Time" is a little like watching a universe being born, as it evolves from the first furtive, jittery signs of life and gradually expands into a hurtling, multivalent ecosystem all its own." – NPR
New York psychedelic legends Oneida will return with Romance, their first non-collaborative studio full-length since 2012, on March 9th. The album is their first for Joyful Noise Recordings. It comes after a period of extended experimentation and introspection following the 2011 demolition of its home base The Ocropolis, a casualty of the gentrifying forces constantly changing Brooklyn's waterfront. Romance's massive scope and wildly eclectic execution is pure Oneida, restlessly absorbing new sounds and styles into their ever-morphing amalgamatory psychedelic rock framework.
This morning NPR Music shared "All In Due Time," a track that demonstrates the band's ability to craft music that is at once hypnotic and unpredictable. Hear it below.
Oneida's Bobby Matador told NPR, "In Oneida, there are both regular metrical pulses/units, and more organically-derived rhythms that seem at first to be completely free, or working in opposition/dissonant periods to the regular stuff — but they eventually reach a rhythmic harmony "in due time" — and it's not necessarily scripted or composed, but we understand how to use this technique and let it unfold in the moment."
Oneida has been a cornerstone of the Brooklyn underground for nearly two decades. Always evolving, the group has been a beacon of musical exploration and enthralling unpredictability, gaining legendary status among heads that know and expanding the limits of what it means to be a rock band. With a discography spanning over a dozen full-lengths, plus live releases, EPs, singles, and limited one-offs, Oneida has demonstrated a mastery of collective improvisation, off-kilter songwriting, complex composition, and everything in between.
In 2011 Oneida lost its home base, its studio dubbed the Ocropolis in Williamsburg, Brooklyn, due to the pervasive gentrification and over-development of the neighborhood that was once a thriving arts community. After watching the Monster Island building that housed the Ocropolis transform into a pile of rubble, the band began an intense period of exploration and discovery, retreating from the studio in favor of the stage, and birthing a panoply of limited, uncompromising releases that documented the band's continuously unfolding journey. Six years after the release of A List of the Burning Mountains, the final emission from the Ocropolis, the band will release their newest studio creation Romance, their first album for Joyful Noise Recordings and a record marked by wild eclecticism, even for a group known for its shape-shifting nature.
Recorded over several years in various locales, the 11 songs on Romance are built around deeply developed long-arc rhythm/phase concepts, noise, yearning, blind guitar rage, longing, the lurch of dying electronics, and a multi-modal embrace of human fallibility and artifice. From the crackling synth-led opener "Economy Travel" to the expansive 18-minute epic "Shepherd's Axe," Romance is an album in constant flux. On "Bad Habit" the band employs phasing between organ and guitar to great, disorienting effect, while the primitive riffs of "Cockfight" offer a contrasting vision of rock minimalism. Listen closely on "Lay of the Land" and you will hear constant rhythmic development, with drummer Kid Millions eschewing repetition in favor of morphing patterns of hi-hat and snare. As with all mystery, Romance reveals more through closer attention and multiple listens.
Oneida, always formidable in the live environment, will be touring throughout the year. Kid Millions remains one of the most in-demand drummers in New York, exploring the outer reaches of percussion music with his own Man Forever project, as well as playing with Laurie Anderson, Royal Trux, and People of the North with Oneida compatriot Bobby Matador. Bobby also takes part in the psych-pop duo Nurse & Soldier, and recently formed yet another duo called New Pope. Guitarist Shahin Motia is a co-founder of underground stalwarts Ex Models and Knyfe Hyts. Through it all Oneida remains a powerful collective voice, a propulsive force for wildness and excitement, with Romance heralding the return of the epic, artful ballad version of the journey.
Oneida – Romance
1. Economy Travel
2. Bad Habit
3. All In Due Time
4. It Was Me
5. Good Lie
6. Lay of the Land
7. Cedars
8. Reputation
9. Cockfight
10. Good Cheer
11. Shepherd's Axe
Out March 9th, 2018 on Joyful Noise Recordings
© Joyful Noise Recordings