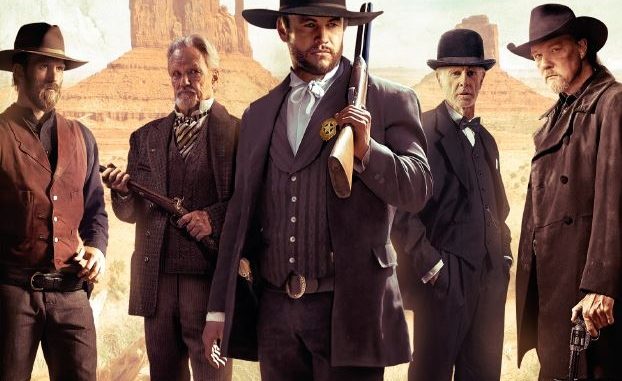 Regi: Timothy Woodward Jr.
Vilda western, USA 2017
I rollerna: Luke Hemsworth, Kris Kristofferson, Trace Adkins, Bruce Dern, Cameron Richardson
DVD/Blu-Ray/VOD
(Studio S Entertainment)
BETYG: TVÅ
I en tid då det görs väldigt få westernfilmer, får man vara glad för det lilla. Men ofta är det rätt svårt att vara glad för det lilla. Modern lågbudgetwestern har en tendens att funka rätt dåligt. Den digitala tekniken med sitt ofta kalla, knivskarpa foto gör att westernmiljöerna och dess invånare ser ut som något slags maskeradföreställningar. Rollfigurerna har en tendens att inte se ut som något annat än skådespelare som klätt ut sig till cowboys. Den oborstade ruffigheten saknas. Även de billigaste italienska westernfilmerna lyckades i de flesta fall vara smutsiga och svettiga.
HICKOK, i regi av Timothy Woodward Jr, tillhör inte de allra billigaste westernfilmerna – de senaste åren har jag försökt se ett par filmer det var helt omöjligt att se mer än en kvart av. Woodward har lyckats anlita en  handfull kända namn till sin film; Kris Kristofferson (som numera ser ut som ett stycke intorkat läder) har en hyfsat stor roll, Bruce Dern har en väldigt liten, obetydligt biroll, medan Luke Hemsworth (storebror till Chris och Liam) innehar titelrollen som Vilde Bill Hickok.
Filmen inleds med några scener från inbördeskriget, därefter anländer Hickok till Abilene, där han går och blir sheriff. Här finns det gått om laglösa att skjuta ner, här finns även en slem och mäktig saloonägare, och så finns här en donna Hickok tidigare haft ihop det med.
Den här filmen skulle kunnat funka om regin vore bättre och de förhållandevis få actionscenerna bättre iscensatta. Dock är regin träig och filmfotot är oinspirerat. Det ser bättre ut när de är utomhus, inomhus ser det platt ut. Filmmusiken är sömnig.
Regissör Woodward Jr har gjort ytterligare en western med Kris Kristofferson; TRADED. Den har jag inte sett. Däremot har jag sett Woodwards THE GOOD, THE BAD AND THE DEAD med Dolph Lundgren. Det är ingen western. Den är inte heller speciellt bra.
Skriven 2018-01-21