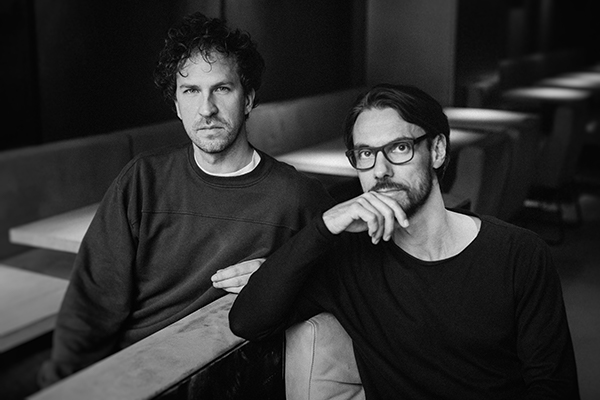 Klicka på bilden, för att se hela bilden
Steve Bug and Langenberg are both artists with a range of releases on different labels and both definitely contributed to today's European House and Techno Scene. Since they have paired up for a first EP on Poker Flat last year, both artists have been working constantly to put out a joined longplayer. And we couldn't be happier to introduce you to the upcoming album 'Paradise Sold', a long awaited release from our label boss and his trusted friend and producer. As a whole the album is a master class in house music production and came to life as a true collaborative work.
"It feels great to work with Max and I don't know why we didn't get to work together earlier.", says Steve Bug. "It feels very natural to be in the studio together and our two worlds match easily. I think I speak for the both of us, when I say, by combining forces we came up with tunes, that we wouldn't have created on our own."
"I really enjoyed the process of making this album", adds Langenberg. "We weren't just sending tracks back and forth over the internet. It was the two of us working together in the studio. It was interesting to experience how the tracks came to life. In the end all the tracks have both of our hand- writings, but the final result has become bigger than just the sum of our individual input."
Pre-listen now exclusively to the album track 'A Touch Of Detroit' to get an insight into the sound of the longplayer. The track explores a harder-edged machine funk that echoes the city's pivotal role in electronic music. The pads are restrained, while the bass and rhythm track hit all the right emotional buttons.
Steve Bug, the dedicated, energetic and constantly surprising talent, has a well-known love for the perfect groove and quality in music. He has found rooted labels like Poker Flat, Dessous Recordings and Audiomatique. Langenberg aka Max Heesen is one of the gurus of the German Deep House scene with a back catalogue on imprints like Drumpoet, STHLM Audio, Strax Leaves, Ovum and not to forget on Bug's Dessous Recordings, where he has put out his well received solo album 'Central Heated House' in 2016. He also stirred up a buzz as one half of the duo Ribn.
With this individual history of both, it comes by no surprise that together they accomplished a smashing longplayer that is likely to arouse dedicated long-time fans as well as hedonistic clubbers. The digital tracklisting contains 9 tracks, 7 are included on the vinyl version, while 'Chord Cluster' and 'The Teaze' are available on a separate vinyl 12".
The first single NGC 6240, a hard edged outing with techy urgency and slick programming, will be released with two remixes from Tim Engelhardt and Vince Watson on February 23th.
Steve Bug & Langenberg – Paradise Sold
Vinyl track listing:
A1. Senior Elfo
A2. NGC 6240
B1. Paper Stabs
B2. Sleepwalker's Bridge
C. A Touch Of Detroit
D1. Search For Xur
D2. Late Harvest
CD track listing:
01. Senior Elfo
02. NGC 6240
03. Paper Stabs
04. Sleepwalker's Bridge
05. A Touch Of Detroit
06. Chord Cluster
07. The Teaze
08. Search For Xur
09. Late Harvest
Digital bonus: Tales Of The Beijing Duck
© hfn music