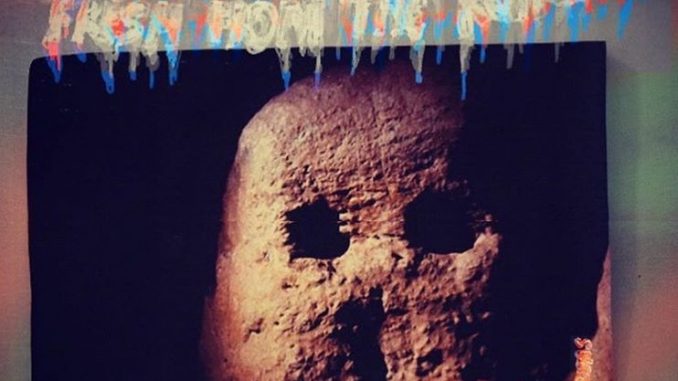 Klicka på bilden, för att se hela bilden
Doglife: Fresh From the Ruins LP/CD (MLR 019)
Second LP from the freejazz-trio Doglife.
Anna Högberg: Saxophones
Finn Loxbo: Electric Bass
Mårten Magnefors: Drums
Dog Life explores free improvised music on a high-energetic plateau, descending from the outskirts of free jazz, and further towards a harder, darker and undefined terrain. Their debut album was critically acclaimed in Europe as well as in the US. On their new album Fresh From the Ruins, Doglife continue to push the freejazz-punk limits and sets out new directions with elements of doom and noise.
Limited to 300 (LP)/200 (CD).
Neutral: När mini-LP (MLR 020)
"A troubled 8-track mini album that stayed on the other side of the Atlantic for a bit before returning firmly to the Omlott headquarters. Meanwhile, the band kept busy doing one-off shows in the US and micro-tours with Lydia Lunch in between the occasional shows in Belgium and Sweden. If you seen Neutral live during the last few years, chances are good that you already heard tracks like 'Du' and 'Köldgatan', both already prominent parts of their live set. The opener 'Du' is a wonderful take on Chris Knox's everlasting 'Not Given Lightly', arguably the strongest love song ever written, though respectfully mangled through the Neutral filter. Recorded hot on the heels of the second album, the duo almost completely abandons the guitars on När in favour of synths and electronics. The pace is traditionally slow and moody and the mumbled kitchen sink realism is forever, yet När could very well be the most melodic and direct recording we've heard from the band."
Limited to 300 copies.
STILL AVAILABLE:
Konstrukt with Alan Wilkinson, Alexander Hawkins & Daniel Spicer:
Lotus 2LP (MLR 016/017)
Konstrukt has made contact with both Alexander Hawkins and Alan Wilkinson during their presence at Konfrontationen Festival in Nickelsdorf in 2013 where the band performed for the second time in Austria after Saalfelden Jazz Festival with Marshall Allen in 2011. All three parts were excited and have agreed to get together sometime in the future.
The result was a night of music with high energy and a wide musical perspective. From drum&bass to ethnic funk vibes, from straight free jazz bursts to spiritual chantings, the whole performance here shows a wide range of outer wordly aspects of all musicians present. Konstrukt is very grateful to be able to work with Omlott again on this recording, after their first collaboration with Joe McPhee on their critically acclaimed If You Have Time LP.
Limited to 300 copies.
Enhet För Fri Musik: Det finns ett hjärta som för dig LP (MLR 018)
I had the pleasure to meet the whole band (that's Hugo Randulv, Sofie Herner, Gustaf Dicksson, Dan Johansson and Matthias Andersson) a couple of weeks ago. In all honesty I can't really decide if it really was a pleasure, but an interesting gathering no matter what. /…/ What I did get, however, and that's solely from letting this album become an integral part of my life and not so much from my few conversations with the band members, is that this is one of the most wonderful albums I've ever heard from Sweden.
People will try hard to figure this one out in the future. A comment on a welfare system collapsing? Just a glimpse into the creators' childhood memories of rainy summers cut-jumping back and forth to scenes of cases of 3.5% beer smashed on the concrete behind the Sibylla, neverending confirmation camps, virginities forever lost and trimmed mopeds disappearing in the morning fog? The letting go's and the joys and the sorrows of it all.
– Efraim F. Ponteus
Limited to 300 copies.
Biggi Vinkeloe Band: Aura Via Appia CD (MLR 015)
The Biggi Vinkeloe Trio has been founded back in 1990 in Cologne, Germany and has toured and recorded in Europe and North America. The Trio has featured great bassists, such as Peter Kowald, Barre Phillips and Peter Friis Nielsen. Peeter Uuskyla, the drummer is most known for his work with Peter Brötzmann, the bassist Roberto Bellatalla is a long time member of the Louis Moholo´s Viva-La- Black. The new Biggi Vinkeloe Band's album Aura Via Appia, recorded in Rome, Italy on October 6, 2016 is launched by Omlott in March/April 2017.
This band creates beautiful, energetic, wild and colorful soundscapes.
– Peeter Uuskyla
Biggi Vinkeloe: Alto Saxophone, Flute
Roberto Bellatalla: Double Bass
Peeter Uuskyla: Drums, Bells, Album Production
Nema Vinkeloe: Violin, Voice
Simon Uuskyla: Voice
Limited to 200 copies.
Also check out the new video for "Tre Månader" from Thomas E. Frank's album Tre Månader on Omlott (MLR 014).
© Omlott