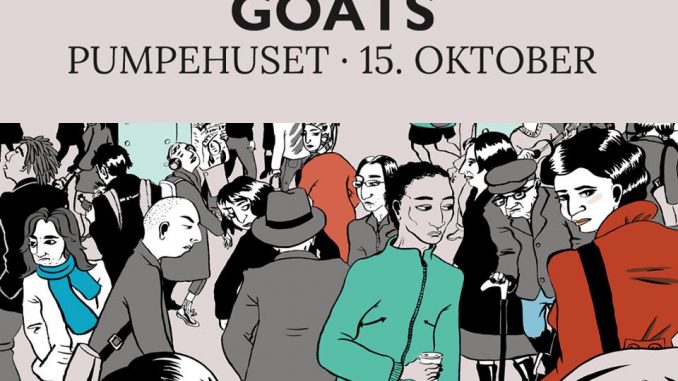 Efter en heldag på Tivoli var det dags att runda av kvällen ett par kvarter längre bort närmare bestämt till det numera ombyggda Pumpehuset.
Innan kvällens huvudattraktion The Mountain Goats dök upp fick den goda vännen och "adepten" Skylar Gudasz nöjet att värma upp publiken med hennes finstämda låtar om döden. Ja, just det där med döden ska väl inte tas så där på blodigt allvar i dessa Halloweentider utan allt är på allvar men inte seriöst, det går att skämta om allvarliga ting.
När väl det stilbildande indiefolkbandet The Mountain Goats, som är ett alterego till singer/songwritern John Darinelle, intog den minimala scenen var det till tonerna av Highway Star och hårdare än så blev det inte. The Mountain Goats musik är väldigt finstämd med väldigt finurliga texter och John är väldigt underhållande men det passar bättre i en trång liten lokal än på en större utomhus scen. Är man lite äldre märker man att många av låtarna innehåller referenser till sådant som dagens unga publik inte kan relatera till. John Darinelles monologer bygger på hans barndom som plugghäst. Till sin hjälp hade John Matt Douglas på saxofon, flöjt och keyboards (Matt hjälpte även till med kompet under Skylar Gudasz set).
När det blev dags för extranummer blev även Skylar Gudasz (som dessutom skötte merchen) uppkallad på scen. Under avslutningslåten No Children, som för övrigt var kvällens absoluta höjdpunkt, klev John Darinelle ned från scen och gick runt bland publiken samtidigt som han sjöng. Och med den låten som innehåller raderna:
In my life, I hope I lie
And tell everyone you were a good wife
And I hope you die
I hope we both die
avslutar vi detta snack om döden…
Foto: Michael Lindström
skriven 2017-10-15