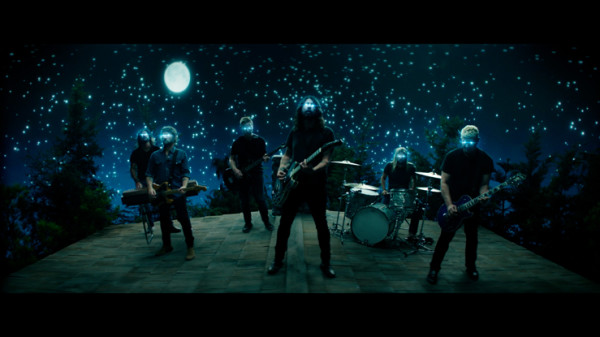 Klicka på bilden, för att se hela bilden
Foo Fighters följer upp rockdängan "Run" med låten "The Sky Is A Neighborhood" – andra smakprovet från bandets kommande album Concrete and Gold som släpps 15 september. Dave Grohl kallar låten "the biggest thing sonically that we've ever done".
"One night I was lying out looking up at stars, just imagining all of these stars as places that have life on them as well, and I decided that the sky is a neighborhood, that we need to keep our shit together in order to survive in this universe full of life. But I had no music yet. I just had the title. So everyday I would walk around, kind of humming this thing in my head."
"The Sky Is A Neighborhood" spelades in under en eftermiddag av Grohl och hans fellow Foo Fighters Taylor Hawkins, Nate Mendel, Chris Shiflett, Pat Smear och Rami Jaffee. "And once we were finished I thought 'OK now we have an album. This is it and we're done'… as we were mixing, I realized that we'd actually done what we set out do: to make this gigantic Foo Fighters record but with Greg Kurstin's sense of jazz and melody and arrangement, something that we'd never done before", säger Grohl.
Låten förtjänade en lika ambitiös visuell presentation. Filmaren Brandon Trost, Foo Fighters – med familj – och Grohl som regissör, skapade musikvideon som även den har världspremiär idag.
Foo Fighters lanserar även ett verktyg som låter alla FF-fans mobiltelefoner bli "a tool for exploring the sky in their neighborhood".
Concrete and Gold är skrivet av Foo Fighters, producerat av Greg Kurstin & Foo Fighters, och mixat av Darrell Thorp. Låtlista:
1. T-Shirt
2. Run
3. Make It Right
4. The Sky Is A Neighborhood
5. La Dee Da
6. Dirty Water
7. Arrows
8. Happy Ever After (Zero Hour)
9. Sunday Rain
10. The Line
11. Concrete and Gold
Foo Fighters har vunnit 11 Grammy Awards, sålt över 25 miljoner album, spelat för utsålda arenor (inte minst med brutet ben på Ullevi 2015) och nu vill de fira musiken och ställa till med det ultimata "backyard party for 50 000 people". Sagt och gjort – den 7 oktober samlar Foo Fighters några av världens bästa rockband för CAL JAM 17 i Glen Helen Regional Park i San Bernandino, Kalifornien; Queens of the Stone Age, Cage The Elephant, Liam Gallagher, The Kills, Royal Blood, Babes in Toyland, Japandroids, Bob Mould och många fler sluter upp för en endagsfestival utan dess like.
Foo Fighters är Dave Grohl, Taylor Hawkins, Nate Mendel, Chris Shiflett, Pat Smear och Rami Jaffee.
Lyssna på "The Sky Is A Neighborhood"
www.foofighters.com
© Sony Music Entertainment Sweden