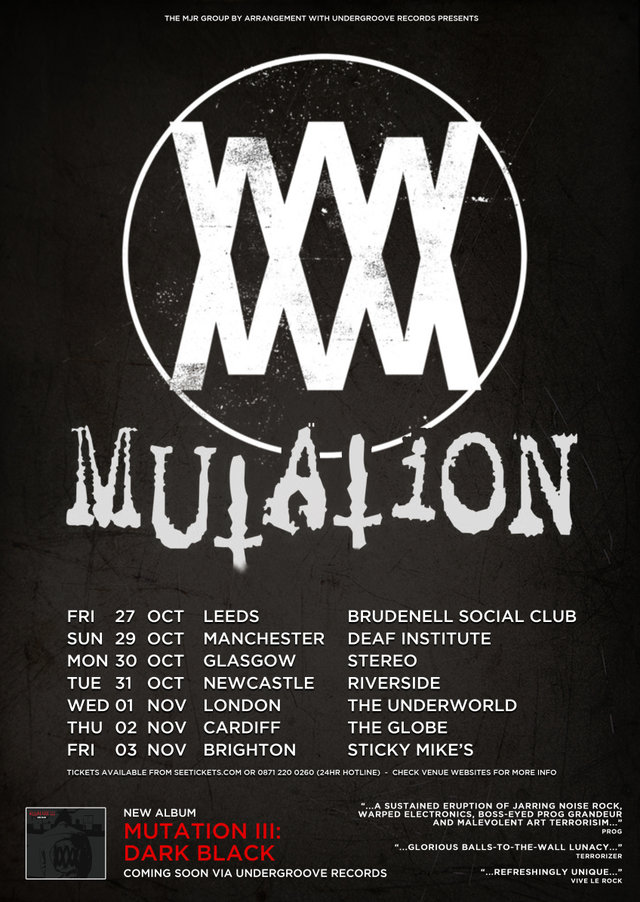 Klicka på bilden, för att se hela bilden
Ginger fully committed to tour in October
While Ginger Wildheart currently remains hospitalized due to his on-going mental health issues and has postponed his current solo shows, the singer has confirmed he intends to be ready for action for the forthcoming debut Mutation tour this autumn.
Says Ginger: "I am fully committed to the Mutation tour in October, and all other Mutation activity to come. I consider this music a catharsis, a way of channeling the aggression and desperation that I'm currently experiencing.
"These shows will act as essential therapy in keeping me focused and providing a goal to strive for in my mental health well-being. I'm maintaining my fitness and keeping my eye on the prize.
"When I say that we will rid ourselves of our demons on every date of this tour in mean it 100 per cent. This will not be a drill."
Mutation Live
The Mutation shows will be in support of the recently released and critically acclaimed 'Mutation III: Dark Black' album which was released in June on undergroove. The band is completed by co-writer Scott Lee Andrews (Exit_International) and drummer Denzel (Vennart/ Young Legionnaire).
October 27 Leeds Brudenell Social Club
October 29 Manchester Deaf Institute
October 30 Glasgow Stereo
October 31 Newcastle Riverside
November 1 London Underworld
November 2 Cardiff The Globe
November 3 Brighton Sticky Mike's Frog Bar
November 4 Damnation Festival
Kerrang! "Gloriously demented¼ bezerk sonic warfare"
Terrorizer "An electronic mélange of nuttiness"
Planet Rock "A despicably nasty melee of industrial anarchy and dissonance"
Metal Hammer "A fucked-up assault of lo-fi fuzz and extreme catharsis"
© Undergroove