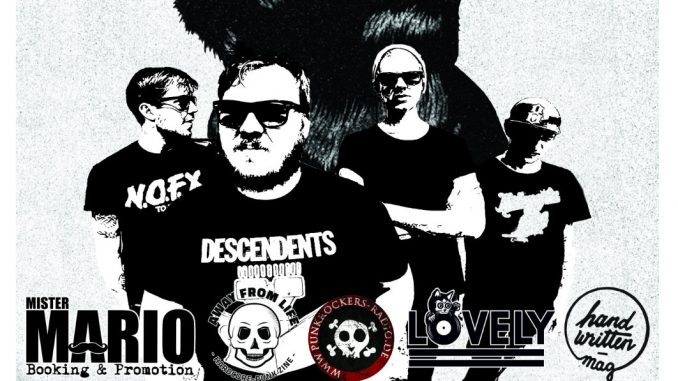 Swedish punk rockers Saturday´s Heroes releases new single and music video 'The Shame' from their upcoming album 'Pineroad', set for release on Lövely Records the 22nd September. The band is heading out in Europe and is now announcing their 'Leaving Pineroad' tour.
Live Dates:
29.09.2017 DE Schaubude, Kiel
30.09.2017 DE Schokoladen, Berlin
01.10.2017 DE Proberaum, Hof
02.10.2017 CZ Boss Bar, Podebrady
03.10.2017 CZ Rock cafe, Prague
04.10.2017 CZ M13, Brno
05.10.2017 DE Rumours, München
06.10.2017 AT SUB, Graz
07.10.2017 SVN Channel Zero, Ljubljana
09.10.2017 CZ Velbloud, Budweiss
10.10.2017 DE Freiraum, Pößneck
11.10.2017 DE Don´t Panic, Essen
12.10.2017 DE Dirty Dancing, Osnabrück
13.10.2017 DE Molotow, Hamburg
14.10.2017 DE Monster Records, Hannover
Saturday's Heroes third album "Pineroad" is set for release the 22nd of September on Lövely Records. "Pineroad" is an homage to the street where two of the bandmembers grew up, a homage to the street, and to the house where the band still rehearse to this day. The home fond bands new album "Pineroad" is filled with more aggression and rock'n'roll attitude. New bass player Daniel Wiggander joined the band as the new album was taking form and the band gained momentum with the new energy boost. "Pineroad" is very much what is expected by a punkrock album in 2017 with a few twists and twerks. It´s a story about growing up, finding yourself and experiencing life.
The album was recorded by Joona Hassinen at Studio Underjord and mastered by Niels Nielsen. Artwork by Johan Lonegran. Saturday's Heroes have been freqently touring in Europe for the last couple of years and is set to hit the roads again in October. The album was planned to be quickly recorded but when the work started it took the band almost a year to get all the pieces together to make it the album to celebrate their upbringing. For fans of Bad Religion, Social Distortion, Bruce Springsteen, The Gaslight Anthem, Dropkick Murphys, Rancid and Street Dogs.
Saturday's Heroes Facebook
© Lövely Records